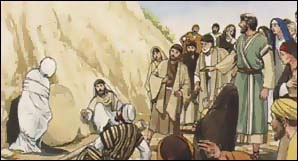 Then Jesus, again groaning in Himself, came to the tomb. It was a cave, and a stone lay against it. Jesus said, "Take away the stone." Martha, the sister of him who was dead, said to Jesus, "Lord, by this time there is a stench, for Lazarus has been dead four days."

Jesus said to her, "Did I not say to you that if you would believe you would see the glory of God?" Then they took away the stone from the place where the dead man was lying. And Jesus lifted up His eyes and said, "Father, I thank You that you have heard Me. And I know that You always hear Me, but because of the people who are standing by, I said this that they may believe that You sent Me."

Now when Jesus had said these things, He cried with a loud voice, "Lazarus, come forth!" And he who had died came out bound hand and foot with graveclothes, and his face was wrapped with a cloth. Jesus said to them, "Loose him, and let him go."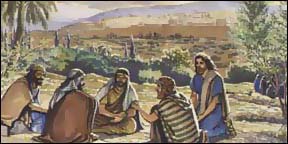 Jesus told his disciples that He gave them power over unclean spirits, to cast them out, and to heal all kinds of sickness and all kinds of disease. Jesus also told them to go and preach, saying, "The kingdom of heaven is at hand." Also Jesus told them to heal the sick, cleanse the lepers, raise the dead, and cast out demons. Jesus told his disciples, "Behold, I send you out as sheep in the midst of wolves. Therefore be wise as serpents and harmless as doves."