Getting It Right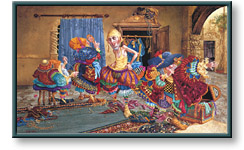 Click on the

for a closer look


Signed & Numbered Paper
Image Size:
Edition Size
Original Issue Price
Our Price
21" x 31"
4,000 S/N
$185.00
$148.00
Place your order securely online or call us to place an order by phone.
This item comes with free shipping, handling, & insurance.

Print Description:

"Clothes make the man!" declares James Christensen, the master of "the land a little left of reality." And he means that literally in the case of Getting It Right, a limited edition fine art print taken from his book The Voyage of the Bassett (1995).

For years, collectors have been enjoying Christensen's ornately costumed characters without getting a look behind the scenes. Now we finally get to see how it all starts with this glimpse behind the walls of the College of Magical Knowledge.

"These gentlemen are nameless Fellowes of the College," Christensen explains, "and we have been allowed to go 'backstage' to see them. Although they're pretending that it's all ho-hum, they're actually pretty caught up in what they're doing — despite the look of disorganization. This is serious business. After all, the more stuff you wear here, the more important you are."

Under the watchful eyes of some helpful mice, and beneath the wardrobe decoration of the ubiquitous fish of wisdom, the Fellowes prepare for the day. For his part, Christensen is pleased with the way this first backstage look turned out.

The architecture of the College's exterior is mirrored on the inside walls. Light streams in from an adjoining courtyard, and just a peek of the lush greenness outside is visible beyond the thick draperies.

"Remember," Christensen says, "in the land a little left of reality, everything's bigger on the inside than it is on the outside." You can see this for yourself by viewing his print, College of Magical Knowledge.

James C. Christensen Art Print Index
A-F
G-P
Q-Z

How to Order

Internet - Visit the secure order form on our website to place an order
safely online.
Phone - Call us to place an order by telephone.
Fax - Fax us to place an order by facsimile.
Mail - Send check, cashiers check, or money order by mail. However,
please call us first for the shipping charges. Our address and local
telephone number can be found under contact information.


| | | |
| --- | --- | --- |
| | | Currently we accept all 4 major credit cards: Visa, MasterCard, American Express, and Discover. We also accept checks, cashiers checks, debit cards, and money orders. International money orders must be in U.S. funds if purchased outside the United States. |



Back to "Christ-Centered Art"

Getting It Right copyright© 1993 by James C. Christensen is prohibited from being copied.
All applicable copyright© laws apply and are reserved by artist James C. Christensen.
Web pages copyright© 1998-2017 by Christ-Centered Mall, Inc. All Rights Reserved.