Trust in the Lord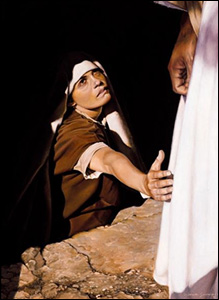 Liz Lemon Swindle limited edition art prints and canvases of Trust in the Lord for sale painted by artist Liz Lemon Swindle.

Click on the

for a closer look



Unframed Signed & Numbered Canvas Giclée
Image Size
Edition Size
Original Issue Price
Our Price
20.5" x 17"
350 S/N
$495.00
$495.00
This item comes with free shipping, handling, & insurance.
This item comes with an instant $50.00 coupon.
Place your order securely online or call us to place an order by phone.

Image Description
"She was considered 'unclean' and forced to stay away from others. This means for twelve years she had not had so much as a hug. She knew the risk of going out into public. If discovered she could have been stoned to death.

"Yet her faith led her forward. She had heard of the Savior and the miracles He had already performed. She reached for the Savior with faith that He could heal her, and He did.

This is not so different than each of us. We spend our time on this earth apart from our heavenly home, longing for the company of our Father. We venture into the unknown with little more than hope that the Savior that He can heal our pains. Like this quiet sister we reach for Him, and catching hold of Him we too are healed."
-- Liz Lemon Swindle

Liz Lemon Swindle Limited Edition Art Prints and Canvases
A-Z


How to Order


You can purchase artwork from us by any of the following methods:



Internet - Visit the secure order form on our website to place an order safely online.



Phone - Call us to place an order by telephone.



Fax - Fax us to place an order by facsimile.



Mail - Send check, cashiers check, or money order by mail. However, please call us first for the
shipping charges. Our address and local telephone number can be found under contact information.



Our gallery accepts all 4 major credit cards: Visa, MasterCard, American Express, and Discover.
We also accept checks, cashiers checks, debit cards, U.S. money orders, and international
money orders. Please note: International money orders must be drawn from a U.S. bank.






Trust in the Lord by Liz Lemon Swindle
Trust in the Lord painting by religious lds artist Liz Lemon Swindle can be purchased in art print or canvas form at special sale prices at Christ-Centered Art.