= Unframed art print



= Framed art print



= Print comes framed
as shown straight
from manufacturer.



= Print caption



= Artwork is selling
below its original
issue price for sale
purposes.



= Artwork is selling
at its original issue
price as set by the
artist's publisher.



= Artwork is selling
above its original
issue price because
the distributor has
raised its prices or
the publisher has
sold out of the print.



= Standard ground
shipping in the
Continental U.S.



Express shipping
and international
shipping require
additional fees.



Please call us for
shipping rates.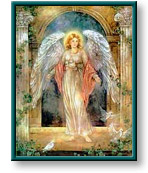 Click on the

for a closer look





Guardian Angel illustrates with breath-
taking beauty, a guardian angel in a gothic
setting. Clad in a pure white robe with a
salmon colored wrap, she stands in the
archway of an ancient building with ivy
trailing down its stone columns.

The deep blue sky provides a marbled
backdrop that further dramatizes her
very powerful presence. Her arms are
outstretched to reach out to those in need,
bringing comfort and cheer to help them
face whatever may come.

Lovely white doves, the angel's earthly
messengers, gather round to fly out to
those awaiting her goodness and generosity. The Guardian Angel and her messenger
doves will bring peace and joy to your home. [go back]











You can purchase artwork from us by any of the following methods:



Internet - Visit the secure order form on our website to place an order safely online.



Phone - Call us to place an order by telephone.



Fax - Fax us to place an order by facsimile.



Mail - Send check, cashiers check, or money order by mail. However, please call us first for the
shipping charges. Our address and local telephone number can be found under contact information.



Our gallery accepts all 4 major credit cards: Visa, MasterCard, American Express, and Discover.
We also accept checks, cashiers checks, debit cards, U.S. money orders, and international
money orders. Please note: International money orders must be drawn from a U.S. bank.







Guardian Angel copyright© 1996 by Lena Liu is prohibited from being copied.
All applicable copyright© laws apply and are reserved by the artist Lena Liu.
Web pages copyright© 1998-2010 by Christ-Centered Mall, Inc. All Rights Reserved.