Wood Sorrell and Mud Bay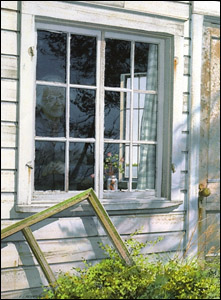 Charles Peterson limited edition art prints of Wood Sorrell and Mud Bay for sale painted by artist Charles Peterson.

Click on the

for a closer look


| | | | |
| --- | --- | --- | --- |
| Artist | Title | Year | Series |
| Charles Peterson | Wood Sorrell and Mud Bay | 2004 | Miscellaneous Collection |

Unframed Signed & Numbered Collector Edition Paper Lithograph w/Book
Image Size
Edition Size
Original Issue Price
Our Price
10" x 7.5"
2,500 S/N
N/A
$698.00
This item comes with free shipping, handling, & insurance.
Place your order securely online or call us to place an order by phone.

Image Description
"It's the random chance of two photographs falling on my desk that started the creative process that eventually became Wood Sorrell and Mud Bay. One was a softly lit image of my grandson Nicholas through a window; the other an old black and white of what Emma Toft fondly referred to as her 'fishing shack.' I didn't know Emma Toft personally — just that she was a Door County native and was much admired for her dedication to the preservation of North Bay wetlands. She was a free spirit, a naturalist. I like to think that the wood sorrel on the sill is there waiting to be transplanted."
-- Charles Peterson

Charles Peterson Limited Edition Art Prints
A-M
N-Z


How to Order


You can purchase artwork from us by any of the following methods:



Internet - Visit the secure order form on our website to place an order safely online.



Phone - Call us to place an order by telephone.



Fax - Fax us to place an order by facsimile.



Mail - Send check, cashiers check, or money order by mail. However, please call us first for the
shipping charges. Our address and local telephone number can be found under contact information.



Our gallery accepts all 4 major credit cards: Visa, MasterCard, American Express, and Discover.
We also accept checks, cashiers checks, debit cards, U.S. money orders, and international
money orders. Please note: International money orders must be drawn from a U.S. bank.






Wood Sorrell and Mud Bay by Charles L. Peterson
Wood Sorrell and Mud Bay painting by watercolor artist Charles L. Peterson can be purchased in art print or canvas form at special sale prices at Christ-Centered Art.