= Unframed art print



= Framed art print



= Print comes framed
as shown straight
from manufacturer.



= Print caption



= Artwork is selling
below its original
issue price for sale
purposes.



= Artwork is selling
at its original issue
price as set by the
artist's publisher.



= Artwork is selling
above its original
issue price because
the distributor has
raised its prices or
the publisher has
sold out of the print.



= Standard ground
shipping in the
Continental U.S.



= Express shipping
and international
shipping require
additional fees.



Please call us
for a quote on
express shipping
and international
shipping rates.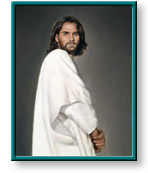 Click on the

for a closer look




Beautifully combining her love for our Savior
with her passion for painting, Liz Lemon
Swindle's personal vision of the life of Christ
continues to captivate her ever-growing
audience. The faith spread from Jesus
through Liz to the viewer can be witnessed
in this understatedly simple and moving
portrait.

"Simply put, I love Jesus Christ," Liz says.
"I love the life he lived. I love the example
he set for me. Most of all, I take great
comfort in the reality that he loved me
enough to die for me. I am sure that in the
years to come my thoughts and impressions
of him will continue to change and grow,
but one thing will remain the same — my
need to testify of his love and life through
art."

.............................--






Signed & Numbered Canvas Giclée
Image Size
18" x 14"
Edition Size
250 S/N
Original Issue Price
$395.00
Our Current Price
$395.00
Place your order safely on our VeriSign secure server.

This item comes with free shipping!

Go to the top of this page.










You can purchase artwork from us by any of the following methods:



Internet - Visit the secure order form on our website to place an order safely online.



Phone - Call us to place an order by telephone.



Fax - Fax us to place an order by facsimile.



Mail - Send check, cashiers check, or money order by mail. However, please call us first for the
shipping charges. Our address and local telephone number can be found under contact information.



Our gallery accepts all 4 major credit cards: Visa, MasterCard, American Express, and Discover.
We also accept checks, cashiers checks, debit cards, U.S. money orders, and international
money orders. Please note: International money orders must be drawn from a U.S. bank.







This website was designed and programmed by

David's Web Creations

, and you're visitor #