= Unframed art print



= Framed art print



= Print comes framed
as shown straight
from manufacturer.



= Print caption



= Artwork is selling
below its original
issue price for sale
purposes.



= Artwork is selling
at its original issue
price as set by the
artist's publisher.



= Artwork is selling
above its original
issue price because
the distributor has
raised its prices or
the publisher has
sold out of the print.



= Standard ground
shipping in the
Continental U.S.



= Express shipping
and international
shipping require
additional fees.



Please call us
for a quote on
express shipping
and international
shipping rates.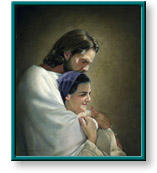 Click on the

for a closer look




Artist Liz Lemon Swindle captures a simple
gesture between mother and son in this
intimate portrait of Jesus and Mary. "I
created this painting because I find great
joy in exploring the relationships between
our Savior and the people he knew and
loved," says Liz. "This wonderfully tender
piece captures the great respect he had for
his mother. In Aramaic, his spoken language,
he would have called her "inta" (woman)
however the title Mother connects the
painting more to our modern culture and
language.

"The painting Be It Unto Me, first in the
"Son of Man" series, captured the essence
of the relationship between the young
mother and her newborn child. Traveling
full-circle, the adult Jesus now holds his
mother in his warm embrace. Even as he
was dying, one of his last thoughts was for
his mother's care directing her to John the
Beloved with the words 'Behold thy son'."

.............................--






Signed Only Unframed Paper
Image Size
17.875" x 15"
Edition Size
Open
Original Issue Price
N/A
Our Current Price
$95.00
Place your order safely on our VeriSign secure server.

This item comes with free shipping!

Signed & Numbered Canvas Giclée
Image Size
24" x 20"
Edition Size
350 S/N
Original Issue Price
$595.00
Our Current Price
$595.00
Place your order safely on our VeriSign secure server.

This item comes with free shipping!

Go to the top of this page.










You can purchase artwork from us by any of the following methods:



Internet - Visit the secure order form on our website to place an order safely online.



Phone - Call us to place an order by telephone.



Fax - Fax us to place an order by facsimile.



Mail - Send check, cashiers check, or money order by mail. However, please call us first for the
shipping charges. Our address and local telephone number can be found under contact information.



Our gallery accepts all 4 major credit cards: Visa, MasterCard, American Express, and Discover.
We also accept checks, cashiers checks, debit cards, U.S. money orders, and international
money orders. Please note: International money orders must be drawn from a U.S. bank.







This website was designed and programmed by

David's Web Creations

, and you're visitor #