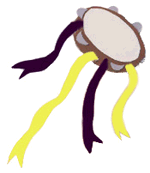 Overview
We sincerely hope you are blessed by this website and encourage you to research more about this glorious instrument of worship and praise. Please stop by as we will be adding more tabrets to our catalog.


You are visitor #
since June 27, 1999



Back to "Christian Stores"

Back to the "Christ-Centered Mall"

All scans done for Praise Him! Tabrets are prohibited from being copied.
All applicable copyright© laws apply and are reserved by Christ-Centered Mall.
Web pages copyright© 1998-2006.