We Would See Jesus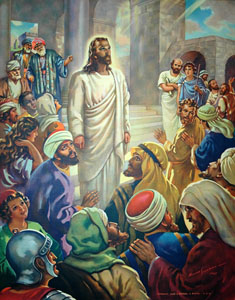 Warner Sallman open and limited edition art prints and canvases of We Would See Jesus for sale painted by artist Warner Sallman.

Click on the

for a closer look


| | | | |
| --- | --- | --- | --- |
| Artist | Title | Year | Series |
| Warner Sallman | We Would See Jesus | 1947 | Single Release |

1947 Kriebel & Bates Antique Paper
Image Size
Edition Size
Original Issue Price
Our Price
21.5" x 16"
Open
N/A
$158.00
Extremely low inventory! Please add $19.50 for shipping, handling, and insurance.
Place your order securely online or call us to place an order by phone.

Image Description
This stunning painting of We Would See Jesus by Warner Sallman depicts a certain scene in John's gospel.

While Jesus was teaching, he said, "Now is my soul troubled; and what shall I say? Father, save me from this hour: but for this cause came I unto this hour. Father, glorify thy name. Then came there a voice from heaven, saying, I have both glorified it, and will glorify it again. The people therefore, that stood by, and heard it, said that it thundered: others said, An angel spake to him. Jesus answered and said, This voice came not because of me, but for your sakes. Now is the judgment of this world: now shall the prince of this world be cast out. And I, if I be lifted up from the earth, will draw all men unto me."



John 12:27-32

Warner Sallman Limited Edition Art Prints and Canvases
A-Z


How to Order


You can purchase artwork from us by any of the following methods:



Internet - Visit the secure order form on our website to place an order safely online.



Phone - Call us to place an order by telephone.



Fax - Fax us to place an order by facsimile.



Mail - Send check, cashiers check, or money order by mail. However, please call us first for the
shipping charges. Our address and local telephone number can be found under contact information.



Our gallery accepts all 4 major credit cards: Visa, MasterCard, American Express, and Discover.
We also accept checks, cashiers checks, debit cards, U.S. money orders, and international
money orders. Please note: International money orders must be drawn from a U.S. bank.





This website was designed and programmed by

David's Web Creations

, and you're visitor #



We Would See Jesus by Warner Sallman
We Would See Jesus painting by artist Warner Sallman can be purchased in art print or canvas form at special sale prices at Christ-Centered Art.