Spilled Milk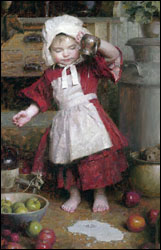 Morgan Weistling limited edition art prints and canvases of Spilled Milk for sale painted by artist Morgan Weistling.

Click on the

for a closer look



Unframed Signed & Numbered Canvas Giclée
Image Size
Edition Size
Original Issue Price
Our Price
28" x 18"
75 S/N
$695.00
Wanted
This item comes with free shipping, handling, & insurance.
Place your order securely online or call us to place an order by phone.

Unframed Artist Proof Canvas Giclée
Image Size
Edition Size
Original Issue Price
Our Price
28" x 18"
10 A/P
N/A
Wanted

Image Description
Artist Morgan Weistling's paintings invite the viewer to step into a story to which everyone can relate and so it is no surprise that his most popular paintings are his portraits of young children. His recent fine art limited edition print, Apple Girl, exudes the wonder of childhood grace. Weistling arranges the figures of women and children as though they were abstract shapes, composing a scene that is both visually harmonious and narratively engaging.

In Spilled Milk, Weistling continues the journey into the wondrous inner life of children. In the quiet light of morning, a round-cheeked toddler stands in her own little corner, out of the way of busy adults. She tilts a pitcher of milk carefully, watching closely as every drop splashes onto the floor of the kitchen. The little milkmaid in the cranberry-colored dress has no motivation but curiosity and her actions stir within all of us a remembrance of our own innocence.

Morgan Weistling Open and Limited Edition Art Prints and Canvases
A-Z


How to Order


You can purchase artwork from us by any of the following methods:



Internet - Visit the secure order form on our website to place an order safely online.



Phone - Call us to place an order by telephone.



Fax - Fax us to place an order by facsimile.



Mail - Send check, cashiers check, or money order by mail. However, please call us first for the
shipping charges. Our address and local telephone number can be found under contact information.



Our gallery accepts all 4 major credit cards: Visa, MasterCard, American Express, and Discover.
We also accept checks, cashiers checks, debit cards, U.S. money orders, and international
money orders. Please note: International money orders must be drawn from a U.S. bank.






Spilled Milk by Morgan Weistling
Spilled Milk painting by artist Morgan Weistling can be purchased in art print or canvas form at special sale prices at Christ-Centered Art.