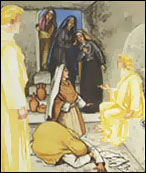 But the angel answered and said to the women, "Do not be afraid, for I know that you seek Jesus who was crucified. He is not here; for He is risen, as He said. Come, see the place where the Lord lay. And go quickly and tell His disciples that He is risen from the dead, and indeed He is going before you into Galilee; there you will see Him. They ran into Jesus on the way, and they held Him by the feet and worshiped Him. That evening, Jesus stood in the presence of His disciples and said, "Peace be with you." When He had said this, He showed them His hands and His side which was pierced with the sword. Then the disciples were glad when they saw the Lord.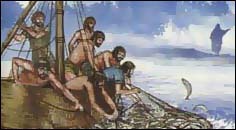 But when the morning had now come, Jesus stood on the shore; yet the disciples did not know that it was Jesus. Then Jesus said to them, "Children, have you any food?" They answered Him, "No." And Jesus said to them, "Cast the net on the right side of the boat, and you will find some." So they cast, and now they were not able to draw their net in because of the multitude of fish.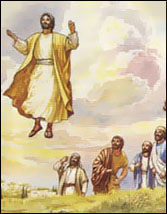 And when Jesus led his disciples out as far as Bethany, He lifted up His hands and blessed His disciples. Now it came to pass, while Jesus blessed them, that He was parted from them and carried up into heaven, and Jesus sat at the right hand of God.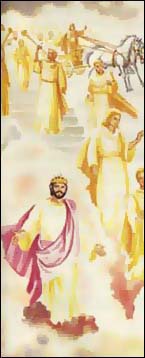 As Jesus was taken into heaven; two angels said to His disciples, "This same Jesus, which is taken up from you into heaven, shall so come in like manner as ye have seen him go into heaven."

And Jesus' disciples worshiped Him, and they returned to Jerusalem with great joy, and they were continually in the temple praising and blessing God.

If you would like to become a disciple of Jesus and receive Him as your Lord and Savior please click below: