= Unframed art print



= Framed art print



= Print comes framed
as shown straight
from manufacturer.



= Print caption



= Artwork is selling
below its original
issue price for sale
purposes.



= Artwork is selling
at its original issue
price as set by the
artist's publisher.



= Artwork is selling
above its original
issue price because
the distributor has
raised its prices or
the publisher has
sold out of the print.



= Standard ground
shipping in the
Continental U.S.



Express shipping
and international
shipping require
additional fees.



Please call us
for a quote on
express shipping
and international
shipping rates.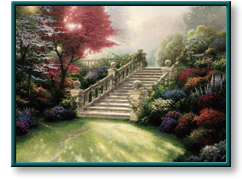 Click on the

for a closer look





"In the most important ways, my life has
been a progress. I have been blessed to see
my love of paintings grow and flourish, my
relations with family and friends deepen and
mature.

"Underlying those worldly satisfactions, I
believe, is a spiritual progress. As an artist,
I seek out beauty; I revel in the glory of
God's creation. Lately, I've come to an
understanding. What we call beauty is
something more: a glimpse of the divine,
a vision of Paradise. That profound truth is
the inspiration for my new Visions of
Paradise print collection.

"There are earthly places, living moments
that speak to the deepest part of my
imagination. They offer a glimpse of
Paradise here on earth. In my painting
Stairway to Paradise, a classic stone
stairway embraced by climbing roses and
shaded by lavish flowering plum and
dogwood trees, is such an emblem of the
eternal. The stairs lead us up to glowing
distant hedges and perhaps to the subject
of the next piece in the collection!

"Won't you join me in stepping through that
luminous passage through this painting and
others to follow in this series of works?
Together we will explore the garden vistas
that perhaps can awaken in each of us
memories of Eden."

-- Thomas Kinkade
[go back]











You can purchase artwork from us by any of the following methods:



Internet - Visit the secure order form on our website to place an order safely online.



Phone - Call us to place an order by telephone.



Fax - Fax us to place an order by facsimile.



Mail - Send check, cashiers check, or money order by mail. However, please call us first for the
shipping charges. Our address and local telephone number can be found under contact information.



Our gallery accepts all 4 major credit cards: Visa, MasterCard, American Express, and Discover.
We also accept checks, cashiers checks, debit cards, U.S. money orders, and international
money orders. Please note: International money orders must be drawn from a U.S. bank.







Stairway to Paradise copyright© 1998 by Thomas Kinkade is prohibited from being copied.
All applicable copyright© laws apply and are reserved by the artist Thomas Kinkade.
Web pages copyright© 1998-2008 by Christ-Centered Mall, Inc. All Rights Reserved.