= Unframed art print



= Framed art print



= Print comes framed
as shown straight
from manufacturer.



= Print caption



= Artwork is selling
below its original
issue price for sale
purposes.



= Artwork is selling
at its original issue
price as set by the
artist's publisher.



= Artwork is selling
above its original
issue price because
the distributor has
raised its prices or
the publisher has
sold out of the print.



= Standard ground
shipping in the
Continental U.S.



Express shipping
and international
shipping require
additional fees.



Please call us
for a quote on
express shipping
and international
shipping rates.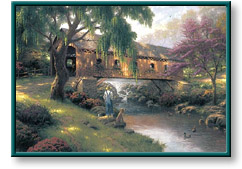 Click on the

for a closer look





"I'm sure that my affection for the simple
pleasures of life stems from my memories of
growing up in the little town of Placerville,
roaming the California foothills with my
friends, savoring the freedom and security
of my boyhood, dreaming the dreams of
childhood and having so many come true.

"Now I celebrate my own very personal
childhood memories with my painting called
The Old Fishin' Hole. As the first in a new
series, this is a historic and very much
anticipated issue. But the reception I
anticipate for The Old Fishin' Hole stems
from something more basic than that. This
idyllic image of childhood reminds us of the
simple pleasures of a summer day.

"Fishing was one of our summer pastimes,
and we all had our favorite fishing holes.
Covered bridges like this one were rarities in
the Sierra foothills, but it seemed, at least
in our boyhood imaginings, that big trout
gathered in the shadowy depths under
those dramatic old bridges. The morning sun
dapples the scene in the radiant light of
memory."

-- Thomas Kinkade
[go back]











You can purchase artwork from us by any of the following methods:



Phone - Call us toll-free at 1-877-843-9278 to place an order by telephone. If you are calling
outside the United States, please dial 1-239-277-1667.



Internet - Use the secure order form on our website to place an order safely online.



Fax - Fax us at 1-239-277-0996 to place an order by facsimile.



Mail - Send check, cashiers check, or money order by mail. However, please call us first for the
shipping charges. Our mailing address can be found under contact information.



Our gallery accepts all 4 major credit cards: Visa, MasterCard, American Express, and Discover.
We also accept checks, cashiers checks, debit cards, U.S. money orders, and international
money orders. Please note: International money orders must be drawn from a U.S. bank.







The Old Fishin' Hole copyright © 2003 by Thomas Kinkade is prohibited from being copied.
All applicable copyright © laws apply and are reserved by the artist Thomas Kinkade.
Web pages copyright © 1998-2003 by Christ-Centered Mall, Inc. All Rights Reserved.