A Christmas Eve Delivery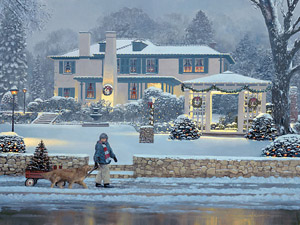 William S. Phillips limited edition art prints and canvases of A Christmas Eve Delivery for sale painted by artist William Phillips.

Click on the

for a closer look


| | | | |
| --- | --- | --- | --- |
| Artist | Title | Year | Series |
| William S. Phillips | A Christmas Eve Delivery | 2005 | Inns of Christmas III |

Signed & Numbered Canvas
Image Size
Edition Size
Original Issue Price
Our Price
15" x 20"
250 S/N
$450.00
$598.00
Please add $19.50 for shipping, handling, and insurance.
Place your order securely online or call us.

Image Description
A Christmas Eve Delivery is the third in William S. Phillips' "Inns of Christmas Series," having previously delighted his scores of loyal collectors with Christmas Eve at the Winchester Inn and Winter Visitors at the Kringle Hill Inn. This year, Phillips captures the spirit of the season with a heartwarming Christmas Eve tale.

"An unusual Christmas Eve snowstorm has descended upon North Carolina bringing holiday travel to a near standstill," Phillips explains. "Highways and airports are closed, forcing travelers to find shelter as the roads are cleared. For the fortunate family who has checked into the Fuquay Mineral Spring Inn and Garden, it will prove to be a most wonderful Christmas experience. The Inn's gracious owners, John and Patty Byrne, knowing their guests disappointment at not spending Christmas Eve with loved ones, have sent for a Christmas tree with all the trimmings to be delivered to their room. A young boy with his faithful friend has volunteered to provide the delivery service in his wagon. After an elegant Christmas Eve dinner and some eggnog and spiced cider with cookies by the fire, our stranded travelers will return to a room decorated with the cheerful glow of a very special Christmas Eve tree."

William S. Phillips Limited Edition Art Prints and Canvases
A-G
H-R
S-Z


How to Order


You can purchase artwork from us by any of the following methods:



Internet - Visit the secure order form on our website to place an order safely online.



Phone - Call us to place an order by telephone.



Fax - Fax us to place an order by facsimile.



Mail - Send check, cashiers check, or money order by mail. However, please call us first for the
shipping charges. Our address and local telephone number can be found under contact information.



Our gallery accepts all 4 major credit cards: Visa, MasterCard, American Express, and Discover.
We also accept checks, cashiers checks, debit cards, U.S. money orders, and international
money orders. Please note: International money orders must be drawn from a U.S. bank.





This website was designed and programmed by

David's Web Creations

, and you're visitor #



A Christmas Eve Delivery by William Phillips
A Christmas Eve Delivery painting by artist William S. Phillips can be purchased in art print or canvas form at special sale prices at Christ-Centered Art.