Swaddling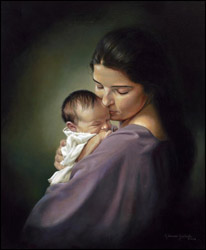 Liz Lemon Swindle limited edition art prints and canvases of Swaddling for sale painted by artist Liz Lemon Swindle.

Click on the

for a closer look



Unframed Signed & Numbered Canvas Giclée
Image Size
Edition Size
Original Issue Price
Our Price
22" x 18.25"
250 S/N
$395.00
$395.00
This item comes with free shipping, handling, & insurance.
Place your order securely online or call us to place an order by phone.

Image Description
Swaddling depicts Mary holding baby Jesus.

"On that first Christmas night, Joseph searched through the inns of Bethlehem looking for a place of comfort for Mary. Despite his pleadings we read: 'And she brought forth her firstborn son, and wrapped him in swaddling clothes, and laid him in a manger; because there was no room for them in the inn' (Luke 2:7).

"Too often we let the distractions of the world crowd out the Savior. Like those in Bethlehem we don't make room for Him in our busy lives. Each year as Christmas draws near I paint a nativity piece. For me it has become a tradition and my own way of making room for Him. May we each find ways to make room in our lives for the Savior - not only at Christmas, but always."
-- Liz Lemon Swindle

Liz Lemon Swindle Limited Edition Art Prints and Canvases
A-Z


How to Order


You can purchase artwork from us by any of the following methods:



Internet - Visit the secure order form on our website to place an order safely online.



Phone - Call us to place an order by telephone.



Fax - Fax us to place an order by facsimile.



Mail - Send check, cashiers check, or money order by mail. However, please call us first for the
shipping charges. Our address and local telephone number can be found under contact information.



Our gallery accepts all 4 major credit cards: Visa, MasterCard, American Express, and Discover.
We also accept checks, cashiers checks, debit cards, U.S. money orders, and international
money orders. Please note: International money orders must be drawn from a U.S. bank.






Swaddling by Liz Lemon Swindle
Swaddling painting by religious lds artist Liz Lemon Swindle can be purchased in art print or canvas form at special sale prices at Christ-Centered Art.