Sharing Lunch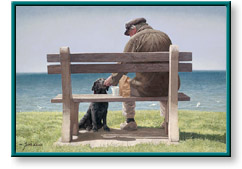 Click on the

for a closer look

| | | |
| --- | --- | --- |
| Title: | Artist: | Year of Release: |
| Sharing Lunch | John Weiss | 2004 |

Signed & Numbered Canvas Giclée
Image Size:
Edition Size
Original Issue Price
Our Price
16" x 23"
150 S/N
$450.00
$428.00
This item comes with free shipping!
Place your order securely online or call us.

Print Description:

With his latest release, artist John Weiss continues his tireless exploration of the constant bond between man and his best friend.

"The ingredients in this painting are some of my favorite things in the world — the sea, dogs, seagulls and friends," says John. "The gentleman in the painting is an old friend of mine named Joe, who gave me advice that has lasted me throughout my career. If you have a choice between talent and perseverance, talent will only take you so far, but perseverance takes you the whole way."

John Weiss Art Print Index
A-G
H-Z

How to Order

Internet - Visit the secure order form on our website to place an order
safely online.
Phone - Call us to place an order by telephone.
Fax - Fax us to place an order by facsimile.
Mail - Send check, cashiers check, or money order by mail. However,
please call us first for the shipping charges. Our address and local
telephone number can be found under contact information.


| | | |
| --- | --- | --- |
| | | Currently we accept all 4 major credit cards: Visa, MasterCard, American Express, and Discover. We also accept checks, cashiers checks, debit cards, and money orders. International money orders must be in U.S. funds if purchased outside the United States. |



Back to "Christ-Centered Art"

Sharing Lunch copyright © 2004 by John Weiss is prohibited from being copied.
All applicable © laws apply and are reserved by artist John Weiss.
Web pages copyright © 1998-2007 by Christ-Centered Mall, Inc. All Rights Reserved.