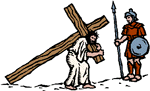 Page 3
Then Jesus was led by the Spirit into the wilderness to be tempted by the devil. He had fasted forty days and forty nights and was very hungry. The tempter came to Him and said, "If you are the Son of God, command these stones to become bread." But Jesus answered, "It is written, Man shall not live by bread alone, but by every word that proceedeth out of the mouth of God." Twice more the devil tempted Jesus, but Jesus rebuked him and he left Him. Then angels came and ministered to Jesus.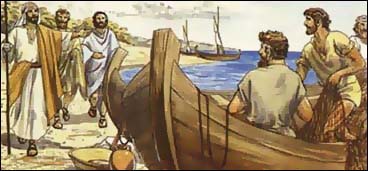 And Jesus, walking by the Sea of Galilee, saw two brothers, Simon Peter and his brother Andrew, casting a net into the sea; for they were fishermen. Then Jesus said to them, "Follow Me, and I will make you fishers of men." They immediately left their nets and followed Him.

Going on from there, Jesus saw two other brothers, James the son of Zebedee, and his brother John in the boat mending their nets with Zebedee their father. Jesus called them, and they immediately left the boat and their father, and they followed Jesus.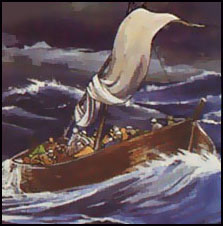 Now when Jesus got into a boat, His disciples followed Him. And suddenly a great tempest arose on the sea, so that the boat was covered with the waves. But Jesus was asleep. Then His disciples came to Him and awoke Him, saying, "Lord, save us! We are perishing!"

But Jesus said to them, "Why are you fearful, O ye of little faith?" Then Jesus arose and rebuked the winds and the sea, and there was a great calm.




Back to the "Christ-Centered Mall"

All scans done by Christ-Centered Mall, Inc. are prohibited from being copied.
All applicable copyright© laws apply and are reserved by Christ-Centered Mall.
Web pages copyright© 1998-2006.