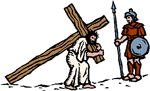 "And she shall bring forth a son, and
thou shalt call his name JESUS: for
he shall save his people from their
sins."

....................................--






Birth of Jesus



The story of Jesus' birth in Bethlehem is
illustrated here by a variety of artists.


Childhood of Jesus



As a boy, Jesus grew in wisdom, in stature,
and in favor with God and man.


Disciples of Jesus



They were followers of Jesus Christ,
especially the commissioned twelve who
followed Jesus during His earthly ministry.


Jesus in Modern Times



These paintings show Jesus here with us in
everyday life, through all circumstances.


Ministry of Jesus



The people whose lives He touched while
on earth became His followers for life.


Miracles of Jesus



He healed the sick, raised the dead, and
made blind men see!


Parables of Jesus



Jesus' stories have significant meanings:
The Good Samaritan, Wise and Foolish
Builder, The Widow's Mite, and more!


Crucifixion of Jesus



The sins of the whole world were placed on
Christ that day.


Resurrection of Jesus



Death couldn't hold Him, and His glorious
resurrection defeated death forever!


Portraits of Jesus



View artists' conceptions of our Lord and
Savior Jesus Christ.


Messianic



Joyfully proclaim the coming of the Messiah,
who is Yeshua (Jesus)!

See subcategories for biblical

characters.



View Christian art categories.

Browse Christian artists.

Go to the top of this page.