= Print is available framed straight from the publishing company.



= Print caption



= New release



= Unframed art print



= Framed art print



= Print is selling below its original issue price for sale purposes.



= Print is selling at its original issue price.



= Print is selling above its original issue price because either the distribution center has raised its prices or the publishing house is sold out of the print.



= An open edition print signed by the artist but not numbered. They are printed on a lighter weight paper stock and are smaller in size than limited editions.



= Artist Proof
A premium signed and numbered print denoted by the abbreviation A/P.



= Remarque
A premium signed and numbered print which includes a small original drawing or painting in the margin area.



= Place your order securely online with any major credit card.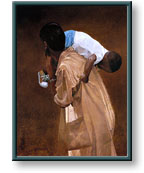 Click on the

for a closer look






There's no one better to capture the special connection between a mother and a child than Dean Mitchell. Not only is he one of the most lauded artists of his generation, but this bond is not something he takes for granted. "I was raised by my grandmother," he explains, "and I haven't done a lot of paintings that have a mother-and-child orientation."

But now Mitchell's life is changing, and his emotional, evocative art is reflecting that. "With all the violence and change in the world today, I think this country is realizing what an impact on society the deterioration of the family structure can have," Michell maintains. "We need to get back to those values. The future's unpredictable, so it's nice to have this bond of love between parent and child. Sometimes that's all you have."

Share this special bond with an artist who conveys important, relevant emotions with every one of his limited edition fine art prints and pick up Bonding Years today.





Signed & Numbered Paper
Image Size:
25.5" x 19.375"
Edition Size:
550 S/N
Original Issue Price:
$175.00
Our Current Price:
$168.00
Place your order safely on our VeriSign secured server.


This item comes with free shipping!
Immediately go to the top of this page.