= Print is available framed straight from the publishing company.



= Print caption



= New release



= Unframed art print



= Framed art print



= Print is selling below its original issue price for sale purposes.



= Print is selling at its original issue price.



= Print is selling above its original issue price because either the distribution center has raised its prices or the publishing house is sold out of the print.



= An open edition print signed by the artist but not numbered. They are printed on a lighter weight paper stock and are smaller in size than limited editions.



= Artist Proof
A premium signed and numbered print denoted by the abbreviation A/P.



= Remarque
A premium signed and numbered print which includes a small original drawing or painting in the margin area.



= Place your order securely online with any major credit card.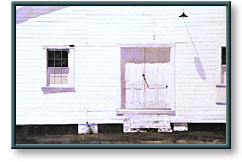 Click on the

for a closer look







How can a simple white facade impart such a feeling of light? The answer lies in the artistry of Dean Mitchell. As we look at his impressive artwork, we often wonder how he can make us feel his subject's emotions and strength through only the medium of paint. That's the reason this important young artist has won more than 200 major art awards. In fact, Mitchell's rare ability to infuse his everyday subjects with life and emotion has made him one of the most successful and lauded artists of his generation.

In his limited edition print, Country Church , Mitchell's exceptional watercolor technique brings such light and intensity to the image that you will want to look at it again and again — savoring its elegant simplicity and feeling the same sense of peace, release, and serenity that Mitchell himself felt each time he looked at the place where he laid down his weekly burden.

"The light can symbolize holiness," he says, "but the entire image is also a symbol of unity Although it appears extremely realistic, I actually moved shapes and exaggerated shadows as part of my interpretation. To give it some depth and strength, I added color, made the grass a little more earthy, and created subtle patterns of darkness in the whiteness of the wood." Mitchell's talent enhances that sense of vibrancy through the artful interplay of shadow and light.





Signed & Numbered Paper
Image Size:
18 5/8" x 28"
Edition Size:
550 S/N
Original Issue Price:
$175.00
Our Current Price:
$348.00
Place your order safely on our VeriSign secured server.


This item comes with free shipping!
Immediately go to the top of this page.