Christmas Eve at the Ahwahnee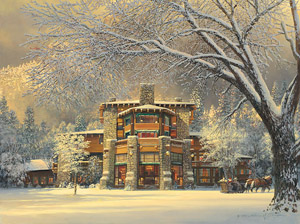 William S. Phillips limited edition art prints and canvases of Christmas Eve at the Ahwahnee for sale painted by artist William Phillips.

Click on the

for a closer look


| | | | |
| --- | --- | --- | --- |
| Artist | Title | Year | Series |
| William S. Phillips | Christmas Eve at the Ahwahnee | 2006 | Inns of Christmas IV |

Signed & Numbered Canvas
Image Size
Edition Size
Original Issue Price
Our Price
15" x 20"
250 S/N
$450.00
$398.00
Please add $19.50 for shipping, handling, and insurance.
Place your order securely online or call us.

Image Description
As the fourth in the "Inns of Christmas" series, William S. Phillips captures the spirit of the season, as well as a glimpse of Santa, with Christmas Eve at the Ahwahnee. Christmas magic has created collector magic, making Sold Out editions of A Christmas Eve Delivery, Christmas Eve at the Winchester Inn, and Winter Visitors at Kringle Hill Inn.

Imagine Santa's joy while flying over our national treasure of Yosemite National Park and arriving at the majestic Ahwahnee Hotel. This National Historical Landmark represents the great American outdoors and is known for its granite fašade, striking beamed ceilings, massive stone hearths and richly colored Native American artwork. Although beautiful and elegant in any season, the Ahwahnee is especially stunning in winter. Each December, the Ahwahnee hosts The Bracebridge Dinner, a feast of food, song and mirth. The holiday season, with its great pageantry and a sumptuous feast fit for a king, is an event even Santa wouldn't miss.

William S. Phillips Limited Edition Art Prints and Canvases
A-G
H-R
S-Z


How to Order


You can purchase artwork from us by any of the following methods:



Internet - Visit the secure order form on our website to place an order safely online.



Phone - Call us to place an order by telephone.



Fax - Fax us to place an order by facsimile.



Mail - Send check, cashiers check, or money order by mail. However, please call us first for the
shipping charges. Our address and local telephone number can be found under contact information.



Our gallery accepts all 4 major credit cards: Visa, MasterCard, American Express, and Discover.
We also accept checks, cashiers checks, debit cards, U.S. money orders, and international
money orders. Please note: International money orders must be drawn from a U.S. bank.





This website was designed and programmed by

David's Web Creations

, and you're visitor #



Christmas Eve at the Ahwahnee by William Phillips
Christmas Eve at the Ahwahnee painting by artist William S. Phillips can be purchased in art print or canvas form at special sale prices at Christ-Centered Art.