= Print is available framed straight from the publishing company.



= Print caption



= New release



= Unframed art print



= Framed art print



= Print is selling below its original issue price for sale purposes.



= Print is selling at its original issue price.



= Print is selling above its original issue price because either the distribution center has raised its prices or the publishing house is sold out of the print.



= An open edition print signed by the artist but not numbered. They are printed on a lighter weight paper stock and are smaller in size than limited editions.



= Artist Proof
A premium signed and numbered print denoted by the abbreviation A/P.



= Remarque
A premium signed and numbered print which includes a small original drawing or painting in the margin area.



= Place your order securely online with any major credit card.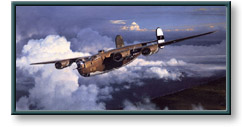 Click on the

for a closer look






Running dangerously low on fuel, "Tail End Charlie" begins its descent for home.

The last plane in an aircraft formation, "Tail End Charlie" is usually the one most vulnerable to attack. The crew of 478, however, racing through the war-torn skies above Britain and the English Channel, has survived flak, fighters, thunderstorms and the bone-chilling cold of high altitude battle to complete yet another in a long series of missions. Ahead is the welcome homecoming of debriefing, hot meals and a warm bed. For the 478, there will be no empty bunks tonight.

The B-24 in this painting belonged to the 578th Bomb Squadron, 392nd Bomb Group, 2nd Division, Eighth Air Force based in Wendling, England in 1944.





Signed & Numbered Paper
Image Size:
17.5" x 35.5"
Edition Size:
1,500 S/N
Original Issue Price:
$165.00
Our Current Price:
$298.00
Place your order safely on our VeriSign secure server.
This item comes with free shipping!
Immediately go to the top of this page.