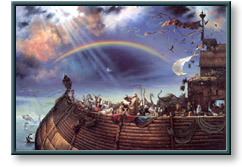 Click on the

for a closer look










Signed Bas Relief Wall Sculpture
Framed Size:
18.375" x 22.625"
Edition Size:
Open
Original Issue Price:
$395.00......
Our Current Price:
$548.00
Place your order safely on our VeriSign secure server.


Wall Sculpture Description:

Delicate and exquisite, this three-dimensional wall sculpture of Tom duBois' The Promise is a totally new artistic collectible. The sculpture technique lifts the characters and animals, the ark, and its embellishments right off the surface making them even more realistic, alive, and enchanting. Each sculpture is individually hand-painted so subtle differences occur making each special and unique unto itself.

The sculpted frame was specially designed to complement the image and bears both the title and the verse the artist chose to accompany it. Mr. duBois personally approves the artistic integrity of each sculpture by signing it within the image.
Framed Print Caption:

"When the rainbow is in the cloud, then I will look upon it to remember the everlasting promise between God and every living creature that is on the earth."

..............................................-- Genesis 9:16
Check out our valuable limited editions.
Immediately go to the top of this page.