= Print is available but not pictured. Please call for a price quote.



= New release.



= Unframed art print.



= Framed art print.



= Print selling below its original issue price.



= Print selling at its original issue price.



= Print is signed but not numbered.



= Artist Proof. The print is denoted by the abbreviation AP.



= Size of art print.



= Year of issue.



= Place order(s).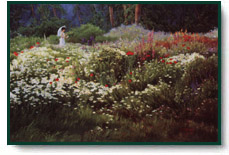 Click on the

for a closer look




Spring's Elegance by June Dudley depicts an abundance of flowers in bloom.

June recalls: "While traveling in North Carolina and Georgia I was entranced by the white daisies and red poppies blooming together. This was in northern Georgia just before crossing into North Carolina, and I loved the flow of the flowers. I simply added Rachelle in the distance admiring the flowers."


This print was issued & released in 199?.




Unframed Paper
Image Size:
18" x 26"
Edition Size:
Open
Original Issue Price:
$50.00
Our Current Price:
$42.50
Place your order safely on our VeriSign secured server.
The overall print size is 24" x 30".