= Print is available but not pictured. Please call for a price quote.



= New release.



= Unframed art print.



= Framed art print.



= Print selling below its original issue price.



= Print selling at its original issue price.



= Print is signed but not numbered.



= Artist Proof. The print is denoted by the abbreviation AP.



= Size of art print.



= Year of issue.



= Place order(s).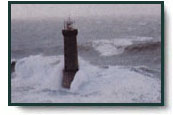 Click on the

for a closer look




Lighthouse I by Jean Guichard depicts the first of three photographs taken of a terrible storm which produced gigantic ocean waves. These huge waves crashed against this lighthouse, yet the lighthouse withstood the impact and weathered the storm.


This print was issued & released in 199*.




Framed Paper
Framed Size:
12" x 14"
Edition Size:
Open
Original Issue Price:
N/A
Our Current Price:
Discontinued
Framed Print Caption:

"For you are my rock and my fortress; therefore, for your name's sake, lead me and guide me."

--- Psalm 31:3

Frame Description:

Print comes matted with glass and framed in a black dust finish frame.
Place your order safely on our VeriSign secured server.