= Print is available but not pictured. Please call for a price quote.



= New release.



= Unframed art print.



= Framed art print.



= Print selling below its original issue price.



= Print selling at its original issue price.



= Print is signed but not numbered.



= Artist Proof. The print is denoted by the abbreviation AP.



= Size of art print.



= Year of issue.



= Place order(s).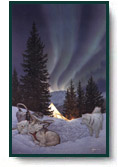 Click on the

for a closer look




Aurora by Scott Kennedy depicts four Siberian Huskies sitting in the snow under "the Northern Lights" or aurora borealis.

Artist of the great outdoors Scott Kennedy gets his inspiration from the beauty all around him. Nature has wonders in abundance, and Kennedy spends his life savoring them.

"This painting is based on a trip my wife and I took with two friends and our dogs this past March. Late one evening, when the others had crawled into their sleeping bags, I stayed out awhile. The sky, the camp, and the panorama caught my senses and wouldn't let go."

Kennedy captures this unforgettable moment in Aurora. Like his previous release, Cabin Fever, Aurora is filled with the loving detail of place and pet that Kennedy collectors have come to expect.

"I added an aura around the aurora borealis to help interject the underlying spiritual quality of the moment," Kennedy explains. "The constellations in the painting, however, such as the Corona Borealis, which is the northern crown, are accurate and authentic."

Share this moment in the great outdoors with one of nature's finest artists.


This print was issued & released in 1992.




Signed & Numbered Paper
Image Size:
25¾" x 17"
Edition Size:
2,250 S/N
Original Issue Price:
$195.00
Our Current Price:
$109.00
Place your order safely on our VeriSign secured server.