= Print is available but not pictured. Please call for a price quote.



= New release.



= Unframed art print.



= Framed art print.



= Print selling below its original issue price.



= Print selling at its original issue price.



= Print is signed but not numbered.



= Artist Proof. The print is denoted by the abbreviation AP.



= Size of art print.



= Year of issue.



= Place order(s).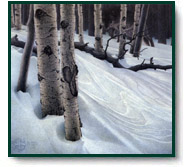 Click on the

for a closer look




Midnight Eyes by Scott Kennedy depicts a black wolf lurking in the trees.

Many people look upon a night wilderness scene and see only the quiet, motionless dark. But when Scott Kennedy looks, he sees what goes on behind the curtain of darkness and moonlight. "Night hath a thousand eyes, said John Lyly in the 16th century, and Scott Kennedy has captured eight of them with his remarkably delicate, deft, and detailed watercolor technique. How many can you find? And what do these Midnight Eyes have in common?

Look into the eyes of the wolf and see its sometimes majestic, sometimes frightening survival skills. His nocturnal brethren are a little harder to find. How about the weasel, who looks out from under the cover of a fallen branch? Look deep into the woods and into the eyes of a goshawk. It doesn't stare back, though, choosing instead to survey the ground for nourishment.

Finally, to paraphrase Christoph Martin Wieland, some cannot see the forest for the trees...but can you see the tree for the forest? Look carefully at the central aspen tree for the fourth, and rarest, set of eyes - those of a miniature northern saw-whet owl, which grows to a height of about eight inches and resides only in certain mountainous places.

These four creatures all live in the same region and share the night, but Scott Kennedy wanted to place each in its own world through composition and color. "There's a lot of perceived color at night," he explains. "Since the main composition of the painting is the snow and the trees, the color is more of a challenge because I wanted a subtlety befitting the nighttime."

Scott Kennedy's artistic talent and design skill have made him one of the most popular and highly respected watercolor artists around. Midnight Eyes is one of his best works, and Greenwich Workshop Cameo Collection styling serves to enhance the beauty of the unspoiled wilderness and the wildlife that inhabit it. Purchase this print today so you can look into the eyes of these four fantastic nocturnal hunters.


This print was issued & released in 1993.




Signed & Numbered Paper
Image Size:
8 7/8" x 10"
Edition Size:
1,750 S/N
Original Issue Price:
$125.00
Our Current Price:
$95.00
The overall print size is 13 13/16" x 14 7/16".
Place your order safely on our VeriSign secured server.