= Print is available framed straight from the publishing company.



= Print caption



= New release



= Unframed art print



= Framed art print



= Print is selling below its original issue price for sale purposes.



= Print is selling at its original issue price.



= Print is selling above its original issue price because either the distribution center has raised its prices or the publishing house is sold out of the print.



= An open edition print signed by the artist but not numbered. They are printed on a lighter weight paper stock and are smaller in size than limited editions.



= Artist Proof
A premium signed and numbered print denoted by the abbreviation A/P.



= Remarque
A premium signed and numbered print which includes a small original drawing or painting in the margin area.



= Place your order securely online with any major credit card.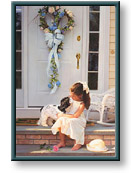 Click on the

for a closer look






George Moore wrote, "A person travels the world over in search of what he needs and returns home to find it."

In her latest piece, Jean Monti explores the concept of home in its purest form. "I think everyone can relate to home as a place of belonging and security," Jean says. "What's great about the dog in the painting is that there's nothing like having a pet to welcome you home as well."





Signed & Numbered Canvas Giclée
Image Size:
28" x 18"
Edition Size:
75 S/N
Original Issue Price:
$595.00
Our Current Price:
$528.00
Place your order safely on our VeriSign secure server.


Immediately go to the top of this page.