= Print is available but not pictured. Please call for a price quote.



= New release.



= Unframed art print.



= Framed art print.



= Print selling below its original issue price.



= Print selling at its original issue price.



= Print is signed but not numbered.



= Artist Proof. The print is denoted by the abbreviation AP.



= Size of art print.



= Year of issue.



= Place order(s).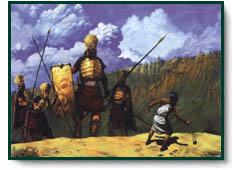 Click on the

for a closer look





David and Goliath by Keith Newton depicts a Hebrew lad named David as he fearlessly confronts a giant Philistine named Goliath. The scene is described in I Samuel 17:8-49.

"And it came to pass, when the Philistine arose, and came and drew nigh to meet David, that David hasted, and ran toward the army to meet the Philistine. And David put his hand in his bag, and took thence a stone, and slang it, and smote the Philistine in his forehead, that the stone sunk into his forehead; and he fell upon his face to the earth."


This print was issued & released in 1999.




Signed Paper
Print Size:
19" x 22"
Edition Size:
Open
Original Issue Price:
N/A
Our Current Price:
Sold Out
Place your order safely on our VeriSign secured server.