= Print is available but not pictured. Please call for a price quote.



= New release.



= Unframed art print.



= Framed art print.



= Print selling below its original issue price.



= Print selling at its original issue price.



= Print is signed but not numbered.



= Artist Proof. The print is denoted by the abbreviation AP.



= Size of art print.



= Year of issue.



= Place order(s).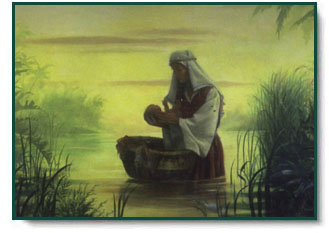 Click on the

for a closer look





Moses in the Bulrushes by Keith Newton depicts Jochebed laying down her son Moses in an ark of bulrushes to prevent Pharaoh from killing her only child. The scene is described in Exodus 2:3.

"And when she could not longer hide him, she took for him an ark of bulrushes, and daubed it with slime and with pitch, and put the child therein; and she laid it in the flags by the river's brink."


This print was issued & released in 1999.




Signed Paper
Print Size:
18" x 24"
Edition Size:
Open
Original Issue Price:
N/A
Our Current Price:
Sold Out
Place your order safely on our VeriSign secured server.