= Print is available but not pictured. Please call for a price quote.


= New release.



= Unframed art print.



= Framed art print.



= Print selling below its original issue price.



= Print selling at its original issue price.



= Print is signed but not numbered.



= Artist Proof. The print is denoted by the abbreviation AP.



= Size of art print.



= Year of issue.



= Place order(s).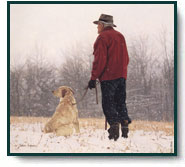 Click on the

for a closer look




Facing the Storm Together by John Weiss depicts a yellow labrador being walked in a harsh snow storm.

People and their pets form an emotional bond that time and adversity can never breach. John Weiss has been exploring this theme in an informal series of portraits that have sold out at the publisher. Here he presents his own yellow lab Maggie and his neighbor friend Grady, both in the winter of their lives, both secure in the knowledge that they have each other.


This print was issued & released in 1999.




Signed & Numbered Paper
Image Size:
14½" x 16"
Edition Size:
950 S/N
Original Issue Price:
$125.00
Our Current Price:
$159.00
Place your order safely on our VeriSign secured server.