= Print is available but not pictured. Please call for a price quote.


= New release.



= Unframed art print.



= Framed art print.



= Print selling below its original issue price.



= Print selling at its original issue price.



= Print is signed but not numbered.



= Artist Proof. The print is denoted by the abbreviation AP.



= Size of art print.



= Year of issue.



= Place order(s).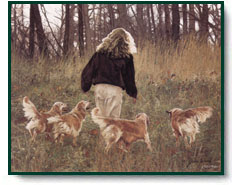 Click on the

for a closer look




Golden Moments by John Weiss depicts a young girl and four baby golden retrievers.

A quiet walk across a grassy field and into the woods, you, your dogs, and a crisp day in fall. John captures the peace of hiking with our most loyal companions - these golden-haired dogs with their flaxen-haired owner create a picture-perfect rendering of a late autumn day.


This print was issued & released in 1998.




Signed & Numbered Paper
Image Size:
15" x 19"
Edition Size:
750 S/N
Original Issue Price:
$125.00
Our Current Price:
$140.00
Place your order safely on our VeriSign secured server.