= Print is available but not pictured. Please call for a price quote.


= New release.



= Unframed art print.



= Framed art print.



= Print selling below its original issue price.



= Print selling at its original issue price.



= Print is signed but not numbered.



= Artist Proof. The print is denoted by the abbreviation AP.



= Size of art print.



= Year of issue.



= Place order(s).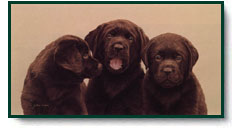 Click on the

for a closer look




Three's Company by John Weiss depicts a yellow lab by a warm fire.

John says, "I wanted to represent a range of expressions with this tiny trio. I've always thought yawning was one of the cutest things that puppies do, so I tried to capture a mid yawn from this played-out little pup." John has given us an adorable group of Labrador puppies - he is on his way to completing puppy paintings of the three most popular Lab variations: Black (Double Trouble), Chocolate (Three's Company), and Yellow (soon to come!).


This print was issued & released in 1998.




Signed & Numbered Paper
Image Size:
8.5" x 16"
Edition Size:
1,250 S/N
Original Issue Price:
$95.00
Our Current Price:
$94.50
Place your order safely on our VeriSign secured server.