= Print is available but not pictured. Please call for a price quote.


= New release.



= Unframed art print.



= Framed art print.



= Print selling below its original issue price.



= Print selling at its original issue price.



= Print is signed but not numbered.



= Artist Proof. The print is denoted by the abbreviation AP.



= Size of art print.



= Year of issue.



= Place order(s).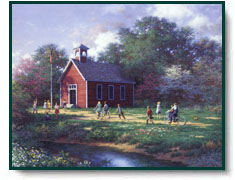 Click on the

for a closer look





The Little Red Schoolhouse by Larry Dyke depicts an old red schoolhouse. Some of us may remember, others can only imagine peanut butter and jelly sandwiches and Mom's apple pie packed in a big silver lunchbox. How about riding a shiny new bicycle along country lanes, playing kick-the-can and hopscotch with friends, the sound of the school bell ringing each morning, and pledging allegiance to the flag on a sunny day? Remember or imagine The Little Red Schoolhouse.

Galatians 3:24 is the Bible verse Larry has attributed to his art print.


This print was issued & released in 1998.




Signed & Numbered Paper
Image Size:
22" x 28"
Edition Size:
1,200 S/N
Original Issue Price:
$125.00
Our Current Price:
Sold Out
Artist Proof Paper
Image Size:
22" x 28"
Edition Size:
A/P
Original Issue Price:
N/A
Our Current Price:
Sold Out
Signed & Numbered Canvas
Image Size:
22" x 28"
Edition Size:
95 S/N
Original Issue Price:
$295.00
Our Current Price:
Sold Out
Artist Proof Canvas
Image Size:
22" x 28"
Edition Size:
10 A/P
Original Issue Price:
$395.00
Our Current Price:
Sold Out