= Print is available framed straight from the publishing company.



= Print caption



= New release



= Unframed art print



= Framed art print



= Print is selling below its original issue price for sale purposes.



= Print is selling at its original issue price.



= Print is selling above its original issue price because either the distribution center has raised its prices or the publishing house is sold out of the print.



= An open edition print signed by the artist but not numbered. They are printed on a lighter weight paper stock and are smaller in size than limited editions.



= Artist Proof
A premium signed and numbered print denoted by the abbreviation A/P.



= Remarque
A premium signed and numbered print which includes a small original drawing or painting in the margin area.



= Place your order securely online with any major credit card.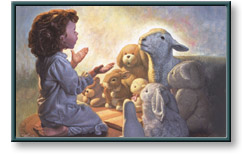 Click on the

for a closer look







"The inspiration for Audience of One came as my wife and I passed by the nursery of the church where we were attending a Christian conference. Suddenly the image of a child leading a choir of stuffed animals with the Lamb of God in their midst came to my wife's mind. She quickly described it to me. This lead to a wonderful collaboration with my family and what I hope will be a blessing from Jesus' heart to yours.

"The Gospel of Matthew 21:12-16 tells how Jesus drives the merchants from the temple and heals the blind and lame. Children excitedly sing His praise, shouting 'Hosanna to the Son of David!' The chief priests and scribes of the law become indignant at the spontaneous praise the children give. In response they ask Jesus in a condemning tone if he hears what the children were saying. Jesus replies, 'Yes, have you never read "Out of the mouths of babes and nursing infants You have perfected praise"? (NKJV)' Jesus is quoting Psalm 8:2, which says 'Out of the mouths of babes and nursing infants You have ordained strength... (NKJV).' There is a correlation between praise and strength, and there is power in praise. God is magnified and His power is released when children praise and worship Him. Jesus values it as much now as He did on that day in Jerusalem.

"As parents and teachers, we have the privilege of encouraging our children into a lifestyle of praise, touching the heart of Christ and seeing the world around them transformed by the power of God."

..............................................-- Robert Grace





Framed Paper
Framed Size:
15 1/2" x 12 1/2"
Edition Size:
Open...............
Original Issue Price:
$60.00
Our Current Price:
Discontinued
Place your order safely on our VeriSign secure server.
Frame Description:

This print comes in an ornate gold frame with a peach mat on top.
Framed Print Caption:

"You have taught children and babies to sing praises to you..."

..................................................-- Psalm 8:2
Immediately go to the top of this page.