= Print is available framed straight from the publishing company.



= Print caption



= New release



= Unframed art print



= Framed art print



= Print is selling below its original issue price for sale purposes.



= Print is selling at its original issue price.



= Print is selling above its original issue price because either the distribution center has raised its prices or the publishing house is sold out of the print.



= An open edition print signed by the artist but not numbered. They are printed on a lighter weight paper stock and are smaller in size than limited editions.



= Artist Proof
A premium signed and numbered print denoted by the abbreviation A/P.



= Remarque
A premium signed and numbered print which includes a small original drawing or painting in the margin area.



= Place your order securely online with any major credit card.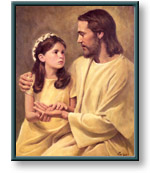 Click on the

for a closer look






"In His Hands portrays the Savior holding a young girl. In His resurrected form, Christ allows the girl to feel the nail prints in his hands. The girl appears to be deep in thought, pondering over the great significance of the nail prints. Much more than a mere wound, the nail prints are a manifestation of the pure love of Christ, the result of His ultimate sacrifice. We, like the young girl, must recognize and cherish this wonderful gift."

.................................................-- Del Parson





Open Edition Paper
Image Size:
14" x 11"
Edition Size:
Open
Original Issue Price:
N/A
Our Current Price:
$25.00
Place your order safely on our VeriSign secure server.


Immediately go to the top of this page.