= Print is available framed straight from the publishing company.



= Print caption



= New release



= Unframed art print



= Framed art print



= Print is selling below its original issue price for sale purposes.



= Print is selling at its original issue price.



= Print is selling above its original issue price because either the distribution center has raised its prices or the publishing house is sold out of the print.



= An open edition print signed by the artist but not numbered. They are printed on a lighter weight paper stock and are smaller in size than limited editions.



= Artist Proof
A premium signed and numbered print denoted by the abbreviation A/P.



= Remarque
A premium signed and numbered print which includes a small original drawing or painting in the margin area.



= Place your order securely online with any major credit card.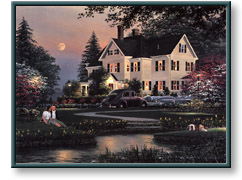 Click on the

for a closer look






Bill had some fun with the title of this image, a pun on "court" and "yard." The soft spring evening naturally inclines the young couple's thoughts to love, but look at one of the second story windows—you'll find someone keeping a sharp eye on the proceedings! Phillips fills the scene with many nostalgic touches, including the Volkswagen Beetle and 1958 Chevrolet Impala convertible parked in the driveway.





Signed & Numbered Paper
Image Size:
14.75" x 19.75"
Edition Size:
950 S/N
Original Issue Price:
$165.00
Our Current Price:
$154.00
Place your order safely on our VeriSign secure server.
This item comes with free shipping!
Immediately go to the top of this page.