= Print is available framed straight from the publishing company.



= Print caption



= New release



= Unframed art print



= Framed art print



= Print is selling below its original issue price for sale purposes.



= Print is selling at its original issue price.



= Print is selling above its original issue price because either the distribution center has raised its prices or the publishing house is sold out of the print.



= An open edition print signed by the artist but not numbered. They are printed on a lighter weight paper stock and are smaller in size than limited editions.



= Artist Proof
A premium signed and numbered print denoted by the abbreviation A/P.



= Remarque
A premium signed and numbered print which includes a small original drawing or painting in the margin area.



= Place your order securely online with any major credit card.




Threading the Eye of the Needle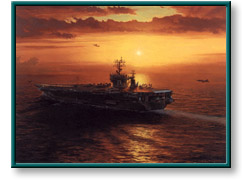 Click on the

for a closer look






It is said that landing a jet on the dock of a heaving aircraft carrier is like threading the eye of a needle. Even on a super carrier the size of this one, the new USS George Washington, it is a daunting proposition.

Famed aviation artist William S. Phillips ought to know. With the full cooperation of the United States Navy, he spent three days aboard a super carrier in preparation for this painting. Phillips' artistic skill and aviation experience give his view of a Tomcat launch and an F-18 Hornet landing a special look and feel.





Signed & Numbered Paper
Image Size:
30.25" x 38"
Edition Size:
1,000 S/N
Original Issue Price:
$195.00
Our Current Price:
$395.00
Place your order safely on our VeriSign secure server.
This item comes with free shipping!
Immediately go to the top of this page.