= Print is available framed straight from the publishing company.



= Print caption



= New release



= Unframed art print



= Framed art print



= Print is selling below its original issue price for sale purposes.



= Print is selling at its original issue price.



= Print is selling above its original issue price because either the distribution center has raised its prices or the publishing house is sold out of the print.



= An open edition print signed by the artist but not numbered. They are printed on a lighter weight paper stock and are smaller in size than limited editions.



= Artist Proof
A premium signed and numbered print denoted by the abbreviation A/P.



= Remarque
A premium signed and numbered print which includes a small original drawing or painting in the margin area.



= Place your order securely online with any major credit card.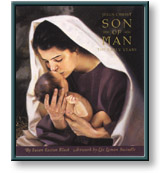 Click on the

for a closer look







Artist Liz Lemon Swindle and Author Susan Easton Black give eloquent voice to the much-loved story of the birth and early years of Jesus Christ in this new, beautifully illustrated family gift book. Known for her meticulously researched artwork, Swindle's paintings accompany the compelling narrative of BYU Professor Susan Easton Black.

In Jesus Christ, Son of Man: The Early Years, Susan Easton Black leads the reader through the early years of the life of Jesus Christ in an informal style, with Biblical references. Although little is documented in ancient writings about the early years of Jesus Christ, both the artist and the author bring to life their shared vision of the young Savior as a child who walked the earth, laughed, played, worked and lived as a part of his native community.

Swindle and Black feel that they have been laying the groundwork for this book for most of their lives. Fueled by passion and research, including several visits to Jerusalem, they are pleased to present this new gift book.

This hardcover book is jacketed, with 56 pages of paintings, pencil sketches, and easy-read narrative.





Hardback Book
Book Size:
9 3/4" x 8 1/4"
Edition Size:
Open
Original Issue Price:
N/A
Our Current Price:
$24.95
Place your order safely on our VeriSign secure server.


This item comes with free shipping!
Immediately go to the top of this page.