Gary Bauer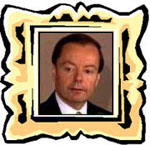 Overview
Gary Bauer, a conservative activist, worked in the Reagan White House, but is better known for his frequent pundit-show appearances and work with the Family Research Council. He can transfix crowds of evangelical Christians, but must become far better known among Republican voters as a whole to stand any chance of breaking out of the GOP pack.

It's a little frustrating how we all get put in boxes, Bauer told The Washington Post earlier this year. And the box I always get put in is religious conservative.

When he announced his candidacy in April, though, he focused on the need for religion. Despite the fact that all of the Founding Fathers knew that America could only make it if it had God's blessing, in spite of that, there is in America today a militant secularism, Bauer said.

He stresses his work for Reagan and ability to attract the support of Reagan Democrats, but he has never held elected office. During the impeachment saga, he called on President Bill Clinton to resign, saying that the accounts of Clinton's relationship with Monica Lewinsky have taught our children that lying is OK, that fidelity is old-fashioned and that character doesn't count.

Stats
Name
Gary Bauer
Party
Republican
Status
Announced candidacy April 21, 1999 in Newport, Kentucky. Resigned on February 4, 2000.
Age on Inauguration Day 2001
54
Born
May 4, 1946 in Covington, Kentucky
Residence
Fairfax, Virginia
Education
J.D. from Georgetown Law School in Washington, D.C. (1973); B.A. degree from Georgetown College in Georgetown, Kentucky, (1968)
Family
Married to Carol Bauer; have two daughters Elyse (21) and Sarah (18) and one son Zachary (12).
Religion
Baptist
Political Experience
President of Family Research Council (1988-present); Founder and chairman of Campaign for Working Families (1997-present); Vice-President of Focus on the Family (1988-1992); Chairman of Citizens Committee to Confirm Clarence Thomas (1991); Director of Office of Policy Development in the White House (1987-88); Under Secretary of the U.S. Department of Education (1985-1987); Deputy Under Secretary for Planning, Budget & Evaluation (1982-85); White House Office of Policy Development (1981-82); Senior policy analyst for Reagan-Bush campaign (1980); Director of research for the Republican National Committee (1972-73);Policy analyst/deputy assistant director for legal policy.
Military Service
None.
Campaign Office
Bauer for President 2000
2800 Shirlington Road
Suite 900
Arlington, VA 22206
Phone: 1-703-933-2000
Web site: N/A
E-Mail: N/A

Political Stance
China
Bauer favors deploying theater missile defenses to protect Taiwan, and would end most-favored-nation trade status for China until China halts political and religious persecution, ends coercive abortion and ends espionage against the U.S.
Taxes
Bauer favors what he calls family-friendly tax reform, with a flat rate of 16 percent. He favors cutting payroll taxes 20 percent, and would eliminate the so-called marriage penalty in income taxes and end inheritance taxes.
Abortion
Bauer favors a Human Life Bill defining unborn children as persons under the Constitution's 14th Amendment. He would outlaw late-term abortions and prohibit U.S. international aid from being used to finance abortion overseas.
Crime & Guns
Bauer vows to protect and defend the right to bear arms, and says he is alarmed by the growing encroachment of government of this individual freedom.
Priority Issue
In reaching out to social and religious conservatives, Bauer has condemned what he calls a culture of death characterized by abortion rights, instant gratification, the disintegration of the family and violent and sexually explicit entertainment.






Back to the "Christ-Centered Mall"

All scans done by Christ-Centered Mall, Inc. are prohibited from being copied. All applicable copyright© laws apply and are reserved by Christ-Centered Mall.
Web pages copyright© 1998-2006.