George W. Bush, Jr.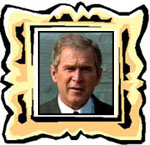 Overview
Son of former President George Bush, Bush made his debut as a candidate in 1978 when he lost a race for the House of Representatives to Democrat Kent Hance. He worked in the oil and gas business in the 1970s and 1980s and assembled a group of partnerships that bought the Texas Rangers baseball team in 1989. Bush became a fixture at the Rangers' stadium, signing autographs and mingling with fans. When his father ran for president in 1988, Bush served as what political operative Mary Matalin calls "his father's trusted consigliere," monitoring the campaign, discouraging leaks to the press, and berating reporters for unflattering stories. In 1991, when discontent was rife in the White House with chief of staff John Sununu, "consigliere" Bush persuaded Sununu to resign. In 1994, Bush challenged incumbent Texas Gov. Ann Richards and beat her with 53 percent of the vote. Four years later, Bush won a second term with 68 percent of the vote over Democrat Garry Mauro.

Stats
Name
George W. Bush
Party
Republican
Status
Announced candidacy June 12, 1999 in Des Moines, Iowa
Age on Inauguration Day 2001
54
Born
July 6, 1946 in New Haven, Connecticut
Hometown
Midland and Houston, Texas
Residence
Austin, Texas
Education
M.B.A. in business administration, Harvard (1975); B.A. in history, Yale (1968)
Family
Married to Laura Welch Bush; have twin 17-year old daughters, Barbara and Jenna
Religion
Methodist
Political Experience
Governor of Texas (1994-present); Adviser to father's presidential campaign (1987-88); Republican nominee for U.S Representative from Texas Congressional District 19 (1978).
Work Experience
Oil and gas entrepreneur (1975-1986); Managing General Partner for the Texas Rangers baseball team (1989-94); Consultant for Harken Energy Corporation (1986); President of the Spectrum Corporation (1984-86); Founder/CEO of Bush Exploration (1975-84).
Military Service
Pilot in Texas Air National Guard (1968-73).
Campaign Office
Bush for President, Inc.
P.O. Box 1902
Austin, TX 78767-1902
Phone: 1-512-637-2000
Web site: http://www.georgewbush.com

Political Stance
Kosovo/Yugoslavia
Bush criticized President Clinton's cautious conduct of the war, saying that the commander-in-chief has a responsibility, once the troops are committed, to win. Bush said it was mistake for Clinton to say at the outset that U.S. soldiers would not be sent to fight in Yugoslavia.
China
Bush has criticized the Clinton administration for being slow to respond to charges of Chinese spying at U.S. nuclear labs. He said, China is not America's strategic partner. China is a competitor, a competitor which does not share our values but now, unfortunately, shares many of our nuclear secrets. But Bush advocates trade with China, arguing that as we introduce American products into that huge market, we will introduce American values as well.
Taxes
Bush has signed for a Tax Reform pledge to veto any federal income tax increase. As Texas governor, Bush has built a record of cutting taxes, signing into law $1.35 billion in property tax cuts and a repeal of the state tax on over-the-counter medicine.
Abortion
Bush signed into law a bill requiring that parents be notified whenever their daughters seek abortions. He has said that America is not ready to ban abortion because America's hearts are not right and that instead of arguing over Roe v. Wade, what we ought to do is promote policies that reduce abortions.
Crime & Guns
Bush approved a measure allowing law-abiding Texans to carry a concealed gun. He also approved bills to crack down on teen-age felons by lowering to 14 the age at which the most violent juveniles can be tried as adults and increasing the penalties for selling guns to kids.
Candidate's priority issue
Bush is trying to define the Republican Party as fiscally conservative but not doctrinaire. He stresses the need to welcome immigrants, but to not put people in little ethnic and racial boxes. He calls himself a compassionate conservative -- he favors cutting taxes and allowing individuals to keep more of what they earn. But he also stresses that it is compassionate to make sure every child learns to read and no one is left behind.






Back to the "Christ-Centered Mall"

All scans done by Christ-Centered Mall, Inc. are prohibited from being copied. All applicable copyright© laws apply and are reserved by Christ-Centered Mall.
Web pages copyright© 1998-2006.