Elizabeth Dole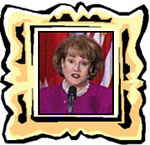 Overview
Elizabeth Dole has never held elected office, but she boasts an impressive resume of government service, with posts in the Nixon, Reagan and Bush administrations, including stints as secretary of transportation and secretary of labor. As transportation secretary, Dole supported random drug testing and spearheaded the move to raise the national drinking age to 21. As labor secretary, she worked on projects to upgrade workers' skills. One-half of the ultimate Washington power couple, Dole took an unpaid 14-month leave from the Red Cross in 1996 to help her husband's presidential campaign, and gave him a boost with her walk-though-the-audience talk at the GOP convention in San Diego on his behalf. But Dole also regularly draws criticism, including Doonesbury parodies, for her ultra-scripted approach to campaigning. How she will react to the messy give and take of a presidential campaign when she is the candidate is an open question.

Update: Elizabeth Dole has chosen to drop out of the Republican Presidential Race.

Stats
Name
Elizabeth Dole
Party
Republican
Status
Formed exploratory committee March 10, 1999; Announced June 30, 1999 that she would formalize her candidacy in the fall. Withdrew from the race October 20, 1999, citing fund-raising problems
Age on Inauguration Day 2001
64
Born
July 29, 1936 in Salisbury, North Carolina
Residence
Washington, D.C.
Education
J.D., Harvard University (1965); M.A. in Education and Government, Harvard University (1960); Post-graduate work at Oxford University (Summer, 1959); B.A. in political science, Duke University (1958) Family: Married to Bob Dole, former U.S. senator; has stepdaughter Robin
Family
Husband, Robert Dole.
Religion
United Methodist
Political Experience
Secretary, Department of Labor (1989-91); Secretary, Department of Transportation (1983-87); Assistant to President Ronald Reagan for Public Liaison (1981-83); Chair, Voters for Reagan-Bush, (1980); Member of the Federal Trade Commission (1973-79); Deputy assistant for consumer affairs to President Richard Nixon, (1971-73); Staff assistant at U.S. Department of Health, Education and Welfare (1965-67)
Work Experience
President of the Red Cross (1991-1999) (with 14-month unpaid leave of absence from November 1995-January 1997 for husband's presidential campaign)
Military Service
None.
Campaign Office
Elizabeth Dole for President Exploratory Committee
P.O. Box 58247
Washington, D.C. 20037
Web site: N/A

Political Stance
Kosovo/Yugoslavia
Dole supported the air campaign against Yugoslavia, saying, What we're doing is the right course and we must not shrink from it. She toured refugee camps and urged Americans to help aid groups assist the Kosovar Albanian refugees.
China
Dole says the U.S. policy of engagement with China has helped build a more open, prosperous economy in that country, but the human rights situation in China has stagnated and the U.S. should press China harder for reform. Washington does not do China any favors when it averts official eyes from Beijing's stagnant human rights situation, or important questions of trust and national security, she says.
Taxes
Dole says she favors cutting taxes and has signed the Americans for Tax Reform Taxpayers Protection Pledge, promising to work for tax relief. She says she would oppose all efforts to increase income tax rates or reduction or elimination of deductions and credits.
Abortion
Dole has looked for middle ground, saying she would not work for a constitutional amendment banning abortion.
Social Security
Dole says all money flowing into the system should go to Social Security and not be spent on other government programs. She does not favor government-controlled investment of Social Security funds in the stock market, but does favor exploring the possibility of individually directed, personally controlled retirement accounts. .
Crime & Guns
Dole has endorsed mandatory child-safety locks on guns, and favors banning certain assault weapons and so-called cop killer armor-piercing bullets. I don't think you need an AK-47 to defend your family, she says.
Priority Issue
Dole says she would like to renew Americans' faith in politics and government. Politics and the politics of governing have become so negative, so paralyzed by special interests, that as a people, we're beginning to lose faith in our own institutions, she says. She says it's important to place service over politics, consensus over confrontation and a constant recognition of the desire of my fellow countrymen to do what is right.






Back to the "Christ-Centered Mall"

All scans done by Christ-Centered Mall, Inc. are prohibited from being copied. All applicable copyright© laws apply and are reserved by Christ-Centered Mall.
Web pages copyright© 1998-2006.