Alan Keyes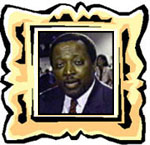 Overview
Born in New York City, Alan Keyes grew up in a military family and spent his childhood at Army bases in Italy and the United States. Keyes initially attended Cornell University where he became a disciple of Allan Bloom, author of "The Closing of the American Mind." But after speaking out against a campus protest by a black student group, he began receiving threats and soon transferred to Harvard. Keyes went on to earn a PhD in government policy and joined the U.S. State Department in 1978.

A fiery orator, Keyes delivers his message of "moral populism" in the style of a revivalist preacher. Richard Kennedy, a New Hampshire State Representative, once remarked that Keyes "makes Jesse Jackson sound like he stutters." It was his rhetorical prowess that caught the attention of former U.N. ambassador Jeane Kirkpatrick who referred to Keyes as "one of the most dramatically articulate people I've ever known in my life." Kirkpatrick became a mentor to Keyes and his career within the State Department soon took off.

Serving under President Ronald Reagan, Keyes defended the administration's policy against imposing economic sanctions on South Africa, a position that brought frequent criticism from black leaders. After a dispute over the allocation of U.N. funding, he abruptly resigned from the State Department in 1987.

The following year, Keyes turned his attention to national politics and ran for the U.S. Senate in his home state of Maryland against Democrat incumbent Paul Sarbanes. He lost the election, receiving only 38 percent of the vote. Keyes made another run for the seat in 1992, this time against Democrat incumbent Barbara Mikulski. He lost again, receiving only 29 percent of the vote. After the election, it was revealed that Keyes had paid himself a salary of $8,500 per month from the campaign fund, a controversy that brought criticism from supporters.

Falling back on his oratorical skills, Keyes launched a conservative radio talk show program, "America's Wake-Up Call: The Alan Keyes Show" on WCBM Radio in Baltimore. In the vein of Rush Limbaugh, Keyes used the show to air his views on every topic from unwed mothers and gun control to U.S. foreign policy in the Balkans.

A devout Catholic, Keyes decries the separation of church and state, calling it a "misinterpretation of the Constitution." In particular, he rails against abortion and blames many of the ills plaguing American society on the prevalence of the procedure. "As long as courts sanction murder in the womb, they will be filled with the consequences of violence in our streets, schools, workplaces, and homes," said Keyes.

In 1995, Keyes became the first black Republican presidential candidate in the 20th century. Using his radio show to drum up grassroots support, he captured the nationwide attention of the Christian right. Running on a staunchly anti-abortion platform, his campaign focused on the corruption of moral leadership in the United States.

Keyes was especially critical of Republican leadership during the Monica Lewinsky scandal. He argued that the GOP had abandoned its moral principles and "utterly failed to inform the opinion of the American people in this time of crisis."

In 1999, Keyes launched another exploratory committee for a presidential run but has not yet officially declared his candidacy.

Stats
Name
Alan Lee Keyes
Party
Republican
Status
Announced exploratory committee June 17, 1999 via news release and officially entered the race September 21, 1999 in Bedford, New Hampshire.
Age on Inauguration Day 2001
50
Born
August 7, 1950 in New York, New York.
Residence
Darnestown, Maryland.
Education
Ph.D. in government, (1979), Harvard University; B.A.in government, Harvard University (1972)
Family
Married to Jocelyn Keyes; have three children -- Francis, Maya, and Andrew
Religion
Roman Catholic
Political Experience
U.S. State Department Foreign Service Officer (1978). U.S. State Department Consular Officer, Bombay, India (1979-1980). U.S. State Department Desk Officer, Zimbabwe (1980-1981). U.S. State Department Policy Planning Staff (1981-1983). U.S. Ambassador, U.N. Economic & Social Council (1983-1985) Assistant Secretary of State for International Organization Affairs (1985-88). Republican nominee for U.S. senator in Maryland, (1988 and 1992). President, Citizens Against Government Waste (1989-91). Public speaker, lecturer (1990-) . Interim president, Alabama A&M University (1991). Host of nationally syndicated "America's Wake-Up Call" show, WCBM Radio, Owings Mills, Maryland. Candidate for president of the United States (1995-96). Author: Masters of the Dream: The Strength and Betrayal of Black America (1995); Our Character, Our Future: Reclaiming America's Moral Destiny (1996). Candidate for Republican presidential nomination (1996).
Work Experience
Talk show host, "The Alan Keyes Show: America's Wake-up Call" (1994-present); Resident Scholar at American Enterprise Institute (1987-1989); Interim president of Alabama A&M University (1987-88)
Military Service
None.
Campaign Office
Keyes 2000
5025 N. Central, Suite 408
Phoenix, AZ 85012
Phone: 1-888-307-2526
Web site: N/A
E-Mail: N/A

Political Stance
Affirmative Action
Keyes is against affirmative action on the grounds that it is preferential treatment and contradicts the principle that all humans are created equal. We cannot cure injustice with another injustice, says Keyes. He argues that affirmative action programs are patronizing to those they benefit and only serve to divide the country by creating resentment against minorities.
Gay Rights
Keyes argues that homosexuality represents an assault on the traditional family. He claims that unlike race, which is a condition, homosexuality is a behavior well within an individual's control. Keyes opposes all legislation that would ban discrimination based on sexual orientation.
Taxes
Keyes advocates abolishing the income tax. He once called it the slave tax on the grounds that it creates a nation of children whose will and resources are subject to the control of 'Big Daddy' government. As an alternative, Keyes says the federal government should be funded through tariffs, duties and sales taxes. Instead of being taxed before we decide how to spend our money, we will be taxed only after we decide what to do with it. In addition, he calls for the dissolution of the Internal Revenue Service.
Abortion
Keyes staunchly opposes the 1973 Roe v. Wade Supreme Court decision. He specifically refutes the notion of viability, arguing instead that the Declaration of Independence states that all humans are created equal and, therefore, fetuses and embryos should be granted the same rights as other children, regardless of whether or not they are viable outside the womb. Keyes says abortion is permissible only as an unintended consequence of efforts to save the mother's physical life.
Guns
Keyes is a strong supporter of the 2nd Amendment, which he says was not put into the Constitution by the founders merely to allow us to intimidate burglars or hunt rabbits to our hearts' content. Keyes argues that the right to keep and bear arms should not only remain legal, but should be a fundamental duty of all Americans in order to resist tyranny.
School Prayer
Keyes decries the separation of church and state. He states that the 1st Amendment does not forbid religious influence on politics or society, only government sponsored coercion of religious conscience. Keyes believes religion should be institutionalized at all levels of American society, including schools.
United Nations
Despite his decade of service in the State Department, including over two years as U.S. representative to the United Nations Economic and Social Council (UNESCO), Keyes is an outspoken critic of the U.N. It has from its flawed founding been a source of pernicious and dangerously naÔve globalist dreams, says Keyes. He warns that the U.N. could easily become a supra-national entity that undermines our sovereignty and that the United States should withdraw from the organization if necessary to protect American principles and interests.
Personal Drug Use
Keyes spokeswoman Becky Finger said the candidate has not used illegal drugs. He canít control what questions are asked of Governor Bush, but personally he does not think it is an appropriate question when there are so many important issues facing the nation, she said.
Priority Issue
According to Keyes, American society must return to the fundamental principles put forth in the Declaration of Independence, and in particular, the notion that God is the ultimate source of law and authority. Keyes argues that immorality has corrupted the nation and has led to the abandonment of respect for law and individual responsibility. For Keyes, a return to a strong belief in God is the only panacea to what he views as the current moral crisis. The reverence for God is not just a matter of religious faith. It is the foundation of justice and citizenship in our Republic, says Keyes.






Back to the "Christ-Centered Mall"

All scans done by Christ-Centered Mall, Inc. are prohibited from being copied. All applicable copyright© laws apply and are reserved by Christ-Centered Mall.
Web pages copyright© 1998-2006.