John McCain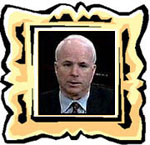 Overview
One of the nationís most prominent war heroes, John McCain is the son and grandson of Navy admirals. After graduating from the U.S. Naval Academy in 1958, he went on to serve as a fighter pilot in Vietnam where he was shot down during a bombing mission in 1967. McCain landed in a lake with a broken leg and two broken arms, and spent 5 Ĺ years as a prisoner of war in the "Hanoi Hilton." Although he underwent severe beatings and torture, McCain refused an offer of early release ahead of soldiers captured earlier. "Thereís an aura about him," said McCain biographer Robert Timberg. "Itís not mystical -- itís really kind of concrete. ... The stuff that McCain survived and did in prison was awesome. And you canít forget that."

After returning home, McCain was assigned the position of Navy liaison to the U.S. Senate and gave up his career as a fighter pilot. "It became apparent I wasnít going to be able to pass my next physical for flying status," he said in an interview. "I wasnít going to be able to match up with my father and grandfather -- which I might not have anyway, even if Iíd been in perfect health."

McCain eventually retired from the Navy, remarried and moved to Arizona, his new wifeís home state. In 1981, John Rhodes, the House Republican leader, gave up his seat in the Phoenix suburbs and McCain made a run for the position. He won and was reelected in 1984. In 1986, Sen. Barry M. Goldwater, R-Ariz., retired and McCain soon filled his seat. He has been reelected to the Senate every term since then.

Stats
Name
John Sidney McCain, III
Party
Republican
Status
Announced candidacy April 13, 1999 via news release (original announcement tour was cancelled due to Kosovo strikes); Made a formal announcement on September 27, 1999 in Nashua, New Hampshire
Age on Inauguration Day 2001
64
Born
August 29, 1936 in Panama Canal Zone, Panama
Residence
Phoenix, Arizona
Education
Graduate work, National War College (1973-74); B.S., U.S. Naval Academy, Annapolis (1958)
Family
Married to Cindy McCain; has seven children -- Doug, born October 4, 1959; Andy, born May 12, 1962; and Sidney, born September 2, 1966 from first marriage to Carol Shepp. Meghan, born October 23, 1984; Jack, born May 2, 1986; Jimmy, born May 21, 1988; and Bridget, born July 21, 1991, from second marriage to the former Cindy Hensley
Religion
Episcopalian
Political Experience
U.S. Senator from Arizona (1987-present); National Security Advisor to Dole/Kemp presidential campaign (1996); U.S. Representative from Arizona's 1st district (1983-1987) Director, Navy Senate Liaison Office, Washington, 1977-81. U.S. representative from Arizona, 1982-86. U.S. senator from Arizona, 1987-present. Chairman, U.S. Senate Committee on Commerce, Science and Transportation, 1995-present. Republican candidate for president, 1999.
Military Service
Commander Ensign, U.S. Navy (1958-1981); promoted to Captain in 1979); Navy pilot, 1967. Prisoner of war, Hanoi, Vietnam (1967-73). Executive officer, Commanding officer, Attack Squadron 174 (1974-77). Received Silver Star, Bronze Star, Legion of Merit, Purple Heart and the Distinguished Flying Cross Vietnamese Legion of Honor. American Legion. VFW.
Campaign Office
McCain 2000
1158 E. Missouri
Suite 140
Phoenix, AZ 85014
Phone: 1-602-604-2000
Web site: N/A

Political Stance
Social Security
Preserving Social Security benefits is a key issue for McCain. Everyone who has worked and invested in the Social Security system must be guaranteed to receive the benefits they were promised, he says. McCainís plan would devote 62 percent of the budget surplus to shoring up the Social Security program, and would lock up the Social Security Trust Fund from use in special interest programs.
Foreign Policy
McCain strongly supported the expansion of NATO as well as NAFTA and the Uruguay Round. He has, however, been an outspoken critic of the Clinton Administration's foreign policy decisions describing them as flawed by strategic incoherence and self-doubt. In particular, McCain decries U.S. foreign policy strategies in Iraq and North Korea, calling them vacillating and reactive. He was also highly critical of the NATO air campaign in Kosovo. McCain says the U.S. should focus on protecting its own interests overseas and be more selective about involvement in regional conflicts.
China
McCain supports engagement with China but cautions that Engagement is not surrender. While he opposes revoking normal trade status with China, McCain warns against pursuing a partnership at the expense of U.S. security. He calls the Clinton Administrationís policies toward China strangely relaxed and accuses President Clinton of overlooking national security lapses in exchange for political support.
Abortion
McCain opposes the 1973 Roe v. Wade Supreme Court decision. He also co-sponsored a measure in the U.S. Senate to ban partial birth abortions, and opposes federal funding for international organizations that provide abortions. However, McCain says abortions are permissible in cases of rape, incest and instances when the life of the mother is endangered.
Personal Drug Use
No,spokesman Howard Opinsky said when asked about past drug use. He doesnít have anything to say about what others have to say. And the question about what is appropriate or not is going to be made by the media and the voters. He realizes it is part of running for office, said Opinsky.
Education
McCain supports school vouchers and says he is fighting to stop Washington bureaucrats and public education unions from dictating education policies. McCain argues that parents and school districts should have greater control over funding and hiring decisions. In 1999, he introduced the Ed-ACT, or Educating America's Children for Tomorrow, which would give millions in federal funding directly to local schools, authorize payment vouchers, and allow a $500 tax credit for voluntary contributions to public and private schools.






Back to the "Christ-Centered Mall"

All scans done by Christ-Centered Mall, Inc. are prohibited from being copied. All applicable copyright© laws apply and are reserved by Christ-Centered Mall.
Web pages copyright© 1998-2006.