Orrin Hatch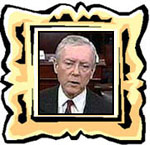 Overview
Orrin Hatch credits his fatherís long hours as a metal lather with teaching him the value of hard work. Following in his fatherís steps, he also went on to learn the metal-lathing trade and was a card-carrying member of the AFL-CIO. After working his way through college at Brigham Young University, Hatch received a scholarship with full honors to the University of Pittsburgh Law School. He practiced law in Pennsylvania and Utah before being elected to the U.S. Senate in 1976.

Considered a dark horse candidate, Hatch filed his candidacy papers on the last possible day and based his campaign on the principles of limited government, tax restraint and integrity in public service. He went on to unseat three-term incumbent Democrat Frank E. Moss with 54 percent of the vote.

In the Senate, Hatch serves as the Chairman of the Senate Judiciary Committee where he oversees confirmation of all judicial nominations, including justices of the Supreme Court. As a result, he has a direct impact on such issues as civil rights, immigration, antitrust law and consumer protection.

Hatch has also authored several books, written the lyrics for scores of songs and produced or co-produced five CDs.

Stats
Name
Orrin Grant Hatch
Party
Republican
Status
Launched exploratory committee on July 1, 1999 for presidential run but has not officially declared his candidacy.
Age on Inauguration Day 2001
67
Born
March 22, 1934 in Pittsburgh, Pennsylvania
Residence
Salt Lake City, Utah
Education
J.D., University of Pittsburgh (1962), with honors; B.A. in American history, Brigham Young University (1959)
Family
Married to Elaine Hatch; have six children -- Brent, born October 11, 1958; Marcia, born April 13, 1960; Scott, born February 19, 1962; Kim, born December 31, 1964; Alyssa, born April 23, 1969; and Jess, born June 19, 1970
Religion
Mormon
Political Experience
Practicing attorney in Pennsylvania & Utah, (1962-1976); U.S. Senator, R-Utah, (1976-Present)
Work Experience
Janitor, metal lather and all-night desk attendant (College/Law school years)
Military Service
None.
Campaign Office
Orrin Hatch Presidential Exploratory Committee, Inc.
175 S. West Temple, Suite 780
Salt Lake City, UT 84101
Phone: 1-801-994-2000;
1-800-HATCH2000
Web site: N/A

Political Stance
Kosovo/Yugoslavia
Hatch supported airstrikes against Yugoslavia because, as he put it, the Milosevic regime has perpetuated instability and ethnic cleansing in Europe for too long. Hatch was initially against sending U.S. troops into Kosovo prior to the bombing campaign, but once the war was under way, he said the U.S. should not rule out the use of ground troops. Hatch argued the Clinton Administrationís policy in Kosovo was flawed - the U.S. acted too late and in doing so, revealed serious flaws in strategy regarding its military and political goals.








Back to the "Christ-Centered Mall"

All scans done by Christ-Centered Mall, Inc. are prohibited from being copied. All applicable copyright© laws apply and are reserved by Christ-Centered Mall.
Web pages copyright© 1998-2006.