= Print is available framed straight from the publishing company.



= Print caption



= New release



= Unframed art print



= Framed art print



= Print is selling below its original issue price for sale purposes.



= Print is selling at its original issue price.



= Print is selling above its original issue price because either the distribution center has raised its prices or the publishing house is sold out of the print.



= An open edition print signed by the artist but not numbered. They are printed on a lighter weight paper stock and are smaller in size than limited editions.



= Artist Proof
A premium signed and numbered print denoted by the abbreviation A/P.



= Remarque
A premium signed and numbered print which includes a small original drawing or painting in the margin area.



= Place your order securely online with any major credit card.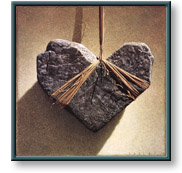 Click on the

for a closer look







Diane's Broken Heart heralds an exciting new direction for Braldt Bralds. His stone portraits were recently the subject of a critically acclaimed one-man show at a prestigious Santa Fe art gallery.

"The sea cast forth a heart of stone, divided but unbroken. Hold on to love, it cries to us in words unwrit, unspoken..."

...............................................-- Braldt Bralds

Dear Braldt,

One day last winter I took a trip alone to a small coastal town in Maine. My love and I had quarreled before I left, plunging me into one of my bluer moods, so I decided to take a walk along the shore and try to sort things out.

I was just starting to think there was no future for the two of us, no way we could heal the latest rupture, when I gazed toward the water's edge and spotted this beautiful stone. I couldn't believe how perfect it was, shaped exactly like a heart! I lifted it up with both hands and saw that it was cracked but still whole.

You're a romantic like me, Braldt, so I'm sure you'll understand when I say that this stone held a message for me - a message for everyone, I think. Hold on to love, it says. Defy the forces that would break your love apart. Be strong and it will endure. I called him and told him about the stone. He listened and said he couldn't wait to see it. And see me.

I'm giving you my heart stone so you can paint it, Braldt, but it's only on loan until you finish. You see, it's mine - Diane's Broken Heart - and I wouldn't give it up for the world!

Your loving friend,



Diane





Signed & Numbered Paper
Image Size:
11" x 11"
Edition Size:
1,500 S/N
Original Issue Price:
$125.00
Our Current Price:
$119.50
Place your order safely on our VeriSign secure server.


This item comes with a fine art gift card.
This item comes with free shipping!
Immediately go to the top of this page.