= Print is available framed straight from the publishing company.



= Print caption



= New release



= Unframed art print



= Framed art print



= Print is selling below its original issue price for sale purposes.



= Print is selling at its original issue price.



= Print is selling above its original issue price because either the distribution center has raised its prices or the publishing house is sold out of the print.



= An open edition print signed by the artist but not numbered. They are printed on a lighter weight paper stock and are smaller in size than limited editions.



= Artist Proof
A premium signed and numbered print denoted by the abbreviation A/P.



= Remarque
A premium signed and numbered print which includes a small original drawing or painting in the margin area.



= Place your order securely online with any major credit card.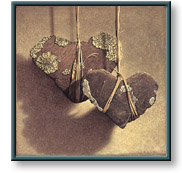 Click on the

for a closer look






"For all who hold fast to love... Heart to Heart."

...............................................-- Braldt Bralds

Braldt Bralds has more than his share of muses. One, whom we might call the "Muse of Mews," inspires him to paint whimsical portraits of felines, as in Cat·as·trophy. Another muse, who arises from a very different corner of the creative universe, urges him to express his more serious, contemplative side. Recently, Bralds has been exploring his views on relationships and romance through a series of remarkable "rock paintings" -- natural stone images that intrinsically convey stories of love.

Look at Heart to Heart and just try not to picture a couple you know, or reflect on the affection and adversity that bind them together. We weren't at all surprised to learn that Heart to Heart was warmly received at Bralds' critically acclaimed one-man show last year at Santa Fe's prestigious Gerald Peters Gallery.





Signed & Numbered Paper
Image Size:
11" x 11"
Edition Size:
950 S/N
Original Issue Price:
$135.00
Our Current Price:
$129.50
Place your order safely on our VeriSign secure server.


This item comes with free shipping!
Immediately go to the top of this page.