= Print is available but not pictured. Please call for a price quote.



= New release



= Unframed art print



= Framed art print



= Print is selling below its issue price.



= Print is selling at its original issue price.



= Print is signed but not numbered.



= Artist Proof
A premium signed and numbered (S&N) print edition denoted by the abbreviation A/P.



= Remarque
A small original drawing or painting done in the margin area of a print.



= Size of art print



= Year of issue



= Place your order securely online with any major credit card.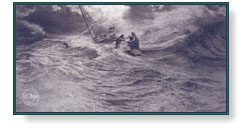 Click on the

for a closer look



Walking on the Water is just one of the 54 drawings and paintings that make up the Immanuel series by Robert Doares. This series is an extraordinary collection depicting the life of Christ. He began work on his drawings in the 1960s but set it aside until 1978. Why did he wait to long to get back to this project? In reflection, Mr. Doares realized his techniques had changed over the years, and perhaps it had been meant for him to have a period of change, growth, and God's direction before he began again. He says that it was his personal relationship with Jesus that led him to do this project -- it was like a moving of the Spirit, he felt drawn to it.

Mr. Doares' research for the Immanuel series led him to the Library of Congress, Greek dictionaries, archaeologists, and Israel. Whenever his sources conflicted with biblical narrative, the Bible was the authority he followed.

Walking on the Water, a reminder of Christ's power and desire to reach out to us when we are in need, was drawn from Mr. Doares' perspective of Matthew 14:24-33, Mark 6:47-52, and John 6:16-21:

"When the disciples' boat was in the midst of the turbulent waves, Jesus came to them, walking upon the sea. He told them, 'It is I, be not afraid.' Peter answered, 'Lord, if it is You, bid me to come to You on the water.' Jesus said, 'Come,' and Peter walked on the water toward Him, but when he saw the wind (shown by a big wave), he was frightened and began to sink. Peter cried out, 'Lord, save me.' Jesus immediately stretched forth His hand and took hold of him. And together they walked back to the boat."

-- Robert Doares


This print was issued & released in 199*.







Unframed Paper
Image Size:
16" x 28"
Edition Size:
Open
Original Issue Price:
N/A
Our Current Price:
Out of Print

Framed Paper
Framed Size:
18" x 30"
Edition Size:
Open
Original Issue Price:
N/A
Our Current Price:
Out of Print
Framing Options:

This print comes in a cherry frame with a navy blue marble mat.
Framed Print Caption:

"But when he saw the wind boisterous, he was afraid; and beginning to sink, he cried, saying, 'Lord, save me!' And immediately Jesus
stretched forth His hand, and caught him..."

-- Matthew 14:30-31a KJV