= Print is available framed straight from the publishing company.



= Print caption



= New release



= Unframed art print



= Framed art print



= Print is selling below its original issue price for sale purposes.



= Print is selling at its original issue price.



= Print is selling above its original issue price because either the distribution center has raised its prices or the publishing house is sold out of the print.



= An open edition print signed by the artist but not numbered. They are printed on a lighter weight paper stock and are smaller in size than limited editions.



= Artist Proof
A premium signed and numbered print denoted by the abbreviation A/P.



= Remarque
A premium signed and numbered print which includes a small original drawing or painting in the margin area.



= Place your order securely online with any major credit card.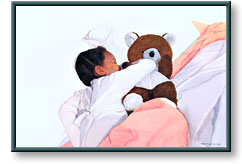 Click on the

for a closer look






Dean Mitchell is an artist of universal emotion. Whether his subject is the wise old woman named Rowena or the supplicant depicted in Psalms 4:1, his striking images speak volumes to all who see them. Now he encapsulates the guileless charm of childhood in Innocence, his new brilliantly designed and executed limited edition fine art print.

Using a subtle but commanding control of color that has led this young artist to win more than two hundred art awards, Mitchell creates an image anyone can relate to. The resulting work of art will feel at home on any wall, from the bedroom to the study.





Signed & Numbered Paper
Image Size:
20" x 27 1/2"
Edition Size:
850 S/N
Original Issue Price:
$150.00
Our Current Price:
$150.00
Place your order safely on our VeriSign secured server.


This item comes with free shipping!
Immediately go to the top of this page.